"We saw her fall and then suddenly the gunman pointed the gun at her head. We were shocked": Eyewitness
Article content
A 21-year-old woman died when she was repeatedly shot in a "targeted" murder at a gas station in Mississauga, Peel Regional Police said.
Article content
"We saw the gunman aim the gun at the victim's head," witness Mark Sandoval said. "He was wearing all black."
Article content
Officers found Pawanpreet Kaur, of Brampton, after being called to a Petro Canada service station in Creditview-Britannia Rds. area around 10:40 PM
"On arrival, police located the victim with apparent gunshot wounds," said a police spokesman. "Life-saving measures were taken, but the victim succumbed to her injuries."
Several witnesses to the shooting said they heard three to four shots.
"We saw her fall and then suddenly the gunman pointed the gun at her head," said Carmela Sandoval. "We were shocked. It was very traumatic. I can't sleep from last night."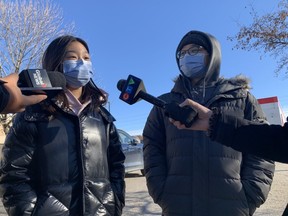 "We heard 'bang, bang, bang.' Three loud bangs," added Michael Chai. At the time, he was about to enter the car wash with his daughter Kaylee, who thought they heard fireworks.
Article content
When they left the car wash, the police were already there.
"Officers arrived at the scene and found a 21-year-old woman who had been shot multiple times," said Duty-Insp. Tim Nightingale. "Medical assistance was provided, but the victim succumbed to her injuries and was pronounced dead at the scene."
The woman, police said, was shot outside the gas station. Little information has been provided about a suspect.
Recommended video
"We can't say the gender of the suspect at this point, only that it was a party we saw leaving – all dark clothing," Nagtegaal said. "The perpetrator was seen running away from the crime scene in all-dark clothing. We thought this was a targeted shooting."
He added that homicide detectives believe it was a targeted killing based on "initial information from eyewitnesses and other evidence we uncovered at the scene."
Article content
No weapon has been recovered.
Police have not shared any details about the victim, but it is believed she was a gas station employee.
"I saw a body lying on the ground and a police officer with a gun drawn," said Hamza Arshad, who lives nearby and arrived after the shooting took place. "It's a little traumatizing."
Forensic investigators were on site Sunday morning to take photos and collect evidence.
"We ask anyone with information or footage to contact police immediately," Nagtegaal said.
[email protected]
Twitter: @_ScottLaurie