Article content
Nearly a month after a $5 billion automotive battery factory was announced for Windsor, the city's mayor traveled to Poland this week to visit Europe's largest gigafactory and source related supply chain components to Windsor.
Article content
Drew Dilkens told the Star on Tuesday that the city is looking to secure companies that will supply products to the Windsor plant — companies already located in Wroclaw, Poland — to offset some of the costs the city has incurred to to land Canada's first gigafactory.
Suppliers must be located within 100 miles of the Windsor factory, which means they can locate as far as Sarnia, Toledo or just outside Flint. But Dilkens said talks about housing the supply chain in Windsor to meet the plant's target opening in 2024 are going "very well".
"The timelines they (suppliers) have are just as aggressive as the battery factory itself," says Dilkens. "They're making decisions now, so we can't sit back and wait. We need to be here now to get our foot in the door and push Windsor as a destination."
Article content
A number of supply companies could be located on airport grounds, where the city has "quite a few acres," he said.
Stellantis and LG Energy Solution announced in March that they will build an automotive battery plant on the east side of Windsor that will immediately employ 2,500 people and create thousands of additional jobs.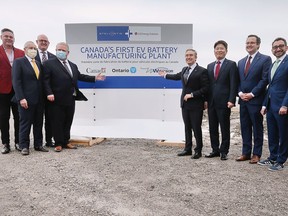 The city's role in securing the investment was to assemble land for the site, which was initially off-market, at an expected $40 million to $50 million. The city will also offer tax breaks taxing the land at current agricultural rates for the first 20 years, and will bring in about $8 million for mostly on-site related preparations, including moving an open drain that crosses the property.
Article content
"Because we've made the big investment with the battery factory, it's important to me, it's important to the city, that we have an opportunity to generate revenue that would be earned from hosting the supply chain," Dilkens said. "That would help offset the costs we incurred in acquiring the land."
The newly announced factory will be located on 220 acres on the corner of EC Row Avenue and Banwell Road. It will occupy 4.5 million square feet, making it slightly larger than Stellantis' Windsor assembly plant, and it will be the largest investment in Canadian auto industry history.
With a capacity to produce four gigawatts annually, the Windsor plant would be the largest of 13 battery plants announced to begin production in North America by 2025.
Article content
The federal and provincial governments have both pledged hundreds of millions of dollars in incentives to land the plant.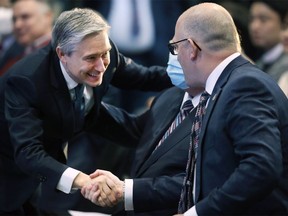 LG Energy Solution's battery plant in western Poland will serve as a template for the Windsor plant, Dilkens said.
"The level of automation, the level of robotics, the level of sophistication in this facility is unlike anything I've ever seen," he said.
During his tour, he said he was told that Windsor's factory would be "the next level" and would be "the LG battery factory that will have the best equipment in the world when it opens.
"If your kids are wondering what to do, have them do STEM (Science, Technology, Engineering, Math). Get them involved in robotics programs – because there will be so much work here for decades that it will all be very strong careers for young people."
Article content
Planning begins to meet rising labor demand with the arrival of a battery factory

$5 Billion Windsor Battery Plant Largest Private Sector Investment in Ontario History

Feds, County Expected to Announce $4 Billion Battery Plant for Windsor
Also in March, the European Commission approved €95 million (about $129 million) for the expansion of LG's lithium-ion battery cell factory in Poland. With the expansion, the plant is expected to supply more than 295,000 electric vehicle batteries per year.
In 2017, LG Chem, the South Korean parent company of LG Energy Solutions, chose to invest €1 billion ($1.363 million) to expand production capacity at its Wroclaw plant.
tcampbell@postmedia.com