Article content
From massive light shows to glittering Christmas trees, Windsor-Essex exudes festive spirit.
Article content
Christmas-crazy residents, volunteer groups and municipalities all joined in the age-long decorating tradition this year with a wide variety of ambitious efforts for your holiday enjoyment. And it's not too late to check them out.
Article content
Colton Williams, the man behind the annual Williams Light Show, smothered his family's Kingsville home in 65,000 lights and synced them to music.
He's doing it in memory of his grandmother, Lois Williams, and to raise money to fight the cancer that took her.
"You have to get bigger every year," says Williams, 26. "People always want to see what the new additions are. It's expensive, but it brings a lot of joy to the community."
Christmas decorations are a continuation of ancient traditions of midwinter celebrations, which are already mentioned in the descriptions of Roman festivals from the 5th century BC.
Article content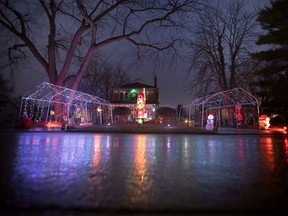 Some contemporary Christmas customs, such as the Yule log, originated during the ancient pagan Yule festival.
German Lutherans started decorating Christmas trees during the Renaissance in the 16th century. The Christmas tree came to North America in 1781. German mercenaries hired by the British started the tradition here after being stationed in Quebec during the American Revolution to defend against attacks from the US.
Decorating trees with electric lighting began to gain popularity at the beginning of the 20th century. By the middle of the century, lighting lights on houses and along streets had become a Christmas custom.
The Williams are one of many Essex County residents dedicated to preserving those cherished traditions.
Article content
But for the first Christmas in a few years that is truly free of COVID-19 capacity rules and other restrictions, local municipalities and organizations are also getting extra festive.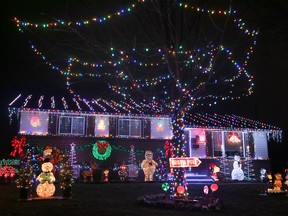 In Walkerville, historic Willistead Manor has been redecorated for the holiday season. More than 75 volunteers working with The Friends of Willistead decorated each of the mansion's 12 rooms with different themes. The last public tour will take place on December 28 from 6:00 PM to 8:00 PM
Bright Lights Windsor runs at Jackson Park through January 8. It contains several themes, including 'Wish Upon a Star', 'Winter Wonderland', a new promenade in honor of the late Queen Elizabeth II, Santa's Workshop and a children's village.
The River Lights Windsor Festival in Amherstburg moves to Jan. 28 with an array of custom LED lighting at King's Navy Yard Park and Toddy Jones Park.
Article content
Kingsville's Fantasy of Lights Festival continues with Christmas-themed activities and twinkling lights in Lakeside Park through January 4.
LaSalle's Holiday Lights Heritage Nights runs through January 8 at the LaSalle Civic Center featuring a "holiday wonderland" featuring numerous outdoor lighting shows and a 40-foot walk-through tree.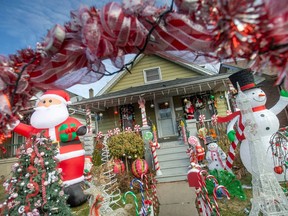 Williams doesn't have a 40-foot tree, but he has just about everything else.
This year alone, he spent about $14,000 on the light show. It took 380 hours to set up the 65,000 lamps.
"Leave everything behind the scenes," Williams said.
Programming a three minute song with the light shows takes 60 to 80 hours.
"I have to tell each light what to do every tenth of a second," he said.
Article content
Williams spends summers creating the props, such as giant snowflakes with pixelated lights, using a 3D printer.
His tradition started when he was a toddler, when he set up lights with his grandmother.
"Ever since I was three, four years old, I went there and it was our thing," he said. "We always did lights. We did them as extravagantly as possible without blowing a fortune at the time.
The display grew each year, eventually moving to Williams' home on Marshwood Dr. 24 when his grandmother fell ill.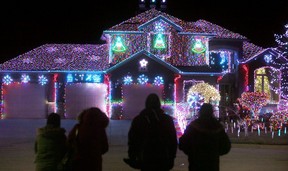 After she passed away in 2018, Williams kept the tradition alive in her memory as she accepted donations to help fight cancer. In recent years he has raised money for the Windsor Cancer Center Foundation.
People can donate online at WilliamsLightShow.com. There is also a donation box for the house.
Article content
Williams said the show kicks off on November 29, his grandmother's birthday, every year.
There are series of nine regular shows to the tune of a variety of music – he took over the former 91.5 FM radio frequency for his shows.
The 20-minute shows start at 6:00 PM, 7:00 PM, 8:00 PM, and 9:00 PM every night of the week except Wednesday. The last night is New Year's Eve.
Williams, who lives with his parents, uses his savings to pay for the exhibition.
"I would probably say 50 to 60 percent of what I make goes straight into the light show," Williams said. "It's an expensive hobby. And at the end of the day, as much as it is for grandma, for cancer, for the community, it's also a hobby."