Two Britons captured by Russian troops during fighting in Ukraine have been sentenced to death, Russia's state news agency RIA Novosti reported.
Aiden Aslin, 28, and Shaun Pinner, 48, have been accused of being mercenaries, another Russian news agency said.
They were captured in Mariupol in April during the intense battle for control of the port city, before being brought to trial in the separatist Donetsk People's Republic (DPR).
It is understood that they admitted "training to carry out terrorist activities".
A third man, Moroccan national Saaudun Brahim, has also reportedly been sentenced to death.
The sentences were handed down by the DPR's Supreme Court, RIA said.
The men were found guilty of "mercenary activities and committing acts aimed at seizing power and overthrowing the constitutional order of the DPR," the Interfax news agency quoted a court official as saying.
When he appeared in court behind bars, Mr Aslin said: "I was hoping that the sentence would be a lot fairer given the circumstances in which I helped the investigation and also because I surrendered to the Donetsk People's Republic. I wish it was different." could, but God will be the one who will judge me when the time comes."
Commenting on the conviction, Conservative MP Robert Jenrick, Mr Aslin's MP, said: "this is an extremely worrying situation", adding that there is "no evidence to substantiate the allegations".
The Russian military has argued that what it considers foreign mercenaries fighting for Ukraine are not combatants.
A long prison term is the best they can hope for if captured, Moscow has said.
They will likely face a firing squad if the sentence is carried out.
The trio are the first foreign fighter to be convicted by Russian-backed separatists and have a month to appeal.
They will, their lawyer said.
Another British fighter captured by pro-Russian forces, Andrew Hill35, waiting for trial.
Secretary of State Liz Truss said she "completely condemned" the conviction and described it as a "sham sentence without any legitimacy".
She tweeted: "They are prisoners of war. We will continue to do everything we can to support them."
Aiden Aslin and Shaun Pinner speak to Sky News before being detained

The prime minister's official spokesman said Aslin and Pinner "should not be prosecuted".
He noted: "We are obviously deeply concerned about this.
"We have consistently said that prisoners of war should not be exploited for political ends.
"You know that prisoners of war are entitled to combatant immunity under the Geneva Convention and that they should not be prosecuted for taking part in hostilities.
"So we will continue to work with the Ukrainian authorities to try to secure the release of all British nationals who served in the Ukrainian armed forces and who are being held as prisoners of war."
Footage previously shared by RIA on social media appeared to show a translator asking Mr Aslin if he would plead guilty to a criminal offence, to which he replied, "Yes."
In the video, the two Britons stand next to Brahim in the dock of the Supreme Court.
Pinner is said to have admitted to "seizing power by force".
The 48-year-old was filmed in April and said he… captured while defending Mariupol, his adopted city.
His family emphasized at the time that he "was not a volunteer or mercenary, but officially served with the Ukrainian army".
He told Sky News a few months earlier that he was on his fourth conscription in Ukraine after serving nine years in the British Army, had lived in the country since 2018 and has a Ukrainian wife.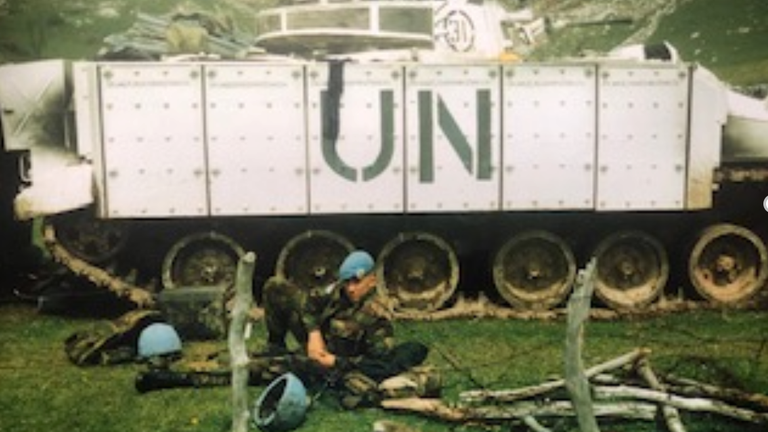 Who are Shaun Pinner and Aiden Aslin?
Mr Pinner is from Watford and is a former soldier in the British Army.
The 48-year-old has participated in many tours, including Northern Ireland and the United Nations in Bosnia.
He moved to Ukraine with his wife in 2018 before joining the military.
He fought alongside Ukrainian resistance forces in Mariupol before being captured by Russian soldiers.
Pinner's family said he was due to finish his three-year contract in the military by the end of 2022 and planned to take on a humanitarian role in Ukraine.
Mr Aslin, a British-Ukrainian, is a former caregiver from Newark in Nottinghamshire.
He traveled to Ukraine in 2018 and enlisted in the armed forces of Ukraine.
Aslin was granted Ukrainian citizenship after three years of military service.
The MP for his hometown of Newark, Robert Jenrick, expressed concern about his treatment in Ukraine during the prime minister's questions earlier this year.
The 28-year-old has a Ukrainian fiancé and was hoping to get a mortgage on an apartment in western Ukraine.
He has said he first became interested in Ukraine after the Maidan protests, a spate of demonstrations and civil unrest in that country in late 2014.
Aslin's family said on Tuesday it was a "very sensitive and emotional time" and that they were working with the Ukrainian government and the British Foreign Office to try to free the 28-year-old.
"Aiden is a much loved man and is sorely missed, and we hope he will be released very soon," they said in a statement.
The former nursing home worker joined the Ukrainian Armed Forces in 2018 as a Marine, has applied for citizenship and has a Ukrainian fiancé.
Former Conservative Cabinet Secretary Robert Jenrick condemned what he called "trumped-up charges" the British couple faced, accusing Russia of a "completely outrageous violation of international law".
Referring to Mr Aslin, Mr Jenrick told the BBC: "This is a British citizen, but also of Ukrainian nationality, (who) joined the Ukrainian armed forces in the normal way prior to the illegal invasion of (Vladimir ) Putin, and served in the armed forces.
"He has been captured by Russian forces and in accordance with international law and the Geneva Convention, he must be appropriately detained and returned to Ukraine as soon as possible, possibly through a prisoner exchange."