The war in Ukraine could be drawing to a stalemate, Western officials said today.
An expert said that if both sides found themselves in the same situation in September, it would be "reasonable" to describe it as a stalemate.
They said, "I can understand why people describe it in those terms.
"From our point of view, I think if it continues like this, we can see it end in a stalemate.
"I think things are still going on during the summer months. So if we were to describe some kind of frozen conflict, if it was a stalemate in those terms.
"If we were still in this position in September, I think that's a reasonable description.
"Every battle ebbs and flows and we would expect losses and gains on both sides. So the question is, will it come to a tipping point?
"The pace of progress and gains for the Russians seems to have slowed down, it is certainly not what they would expect and in general the battle is finally in balance."
It comes after a US official said Russia's invasion of eastern Ukraine reached a stalemate and warned that neither side could win in the current circumstances.
It was previously announced that the mistress, ex-wife and relatives of Russian President Vladimir Putin had been added to the British sanctions list.
Secretary of State Liz Truss is targeting the "shadow network" supporting the leader and the announcement will lead to his inner circle being hit.
The State Department said Putin's official assets were modest, but his lifestyle was "financed by a clique of family, friends and elites".
One of the most high-profile figures on the list is Alina Kabaeva, a retired Olympic gymnast who is widely regarded as Putin's mistress.
A British official described her as having a "close personal relationship" with the former KGB officer.
Unconfirmed reports suggest that the gold medalist from Athens in 2004 got engaged to the Russian leader and gave birth to his children.
Despite officially owning few assets, Putin is said to have displayed a lavish lifestyle, with the Whitehall department pointing to reports linking a £566 million yacht and a $1 billion 'Putin palace' – officially owned by close associate , Arkady Rotenberg, who was sanctioned in December 2020.
Officials also said Russia is now in the throes of the "worst recession since the end of the Cold War" after being hit by international sanctions.
An expert said: "More than 60 percent of Russia's foreign exchange reserves have been frozen, there are persistent reports that Russia is on the brink of default on its external debt and confidence in the Russian economy remains extremely low.
"While the ruble has stabilized to some extent, estimates for Russian GDP growth this year range from a decline of 8.5 to 15 percent.
And the IMF predicted that the economy will shrink even further in 2023. This is the worst recession since the end of the Cold War. It is a huge crash for the Russian economy."
On the fact that Russia appeared to avert some of the worst forecasts about its economy, the official added: "We do not share the view that the Russian economy has been resilient.
"What you're seeing right now is maybe a kind of veneer of stabilization. If you go to Moscow and have a coffee in a nice cafe and you may not witness it, but beneath the surface there is real panic in the Russian economic system.
"And I think we're going to continue to see that in the coming months as some of the short-term effects continue, but also the long-term effects come in."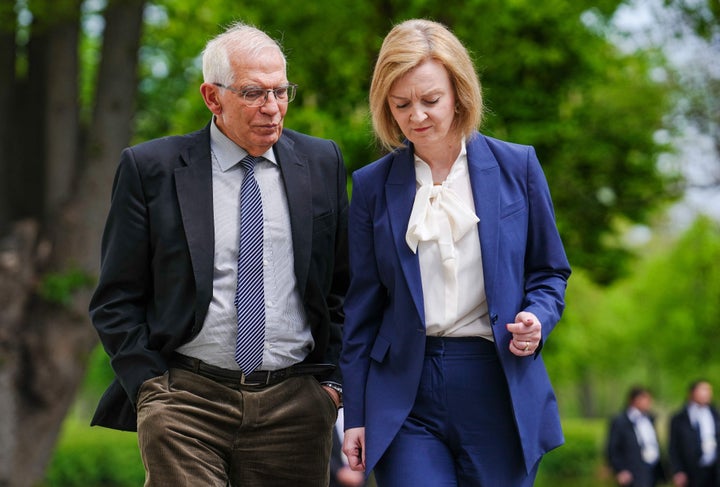 Also today, Truss urged a meeting of G7 foreign ministers to maintain sanctions against Russia until it completely withdraws from Ukraine.
The minister used Thursday's meeting in Germany to push for advancing sanctions until all troops leave the country.
She also said a "clear path to NATO-standard equipment" is needed to remain in Kiev if it is to secure long-term security in the face of Russian aggression.