Local artists were invited to design 10 new boats for this month's Concord Pacific Dragon Boat Festival (June 25-26)
Reviews and recommendations are unbiased and products are selected independently. Postmedia may earn an affiliate commission for purchases made through links on this page.
Article content
June 25-26
False Creek, Vancouver | Open access
---
For Bagua Artist Association, a dragon boat commission was an opportunity to connect with the ancient roots of the land they emigrated from.
The couple, Katharine Yi and Sean Cao, came together in Vancouver four years ago as performers with "a shared experience as first-generation immigrants from China".
They were invited to team up with this month's Concord Pacific Dragon Boat Festival (June 25-26) on one of 10 new boats that will sail the waters of False Creek for the key races. The festival also features music, culture and art – which is where Bagua and other local artists come in.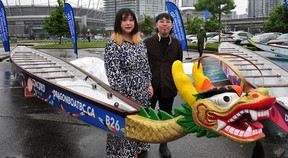 Dragon boat racing originated in China some 2,500 years ago and has ties to the famous Chinese poet Qu Yuan.
Article content
Bagua's artists were fascinated by Qu's work and history and wanted to reflect that in the boat's design. The first stanza of one of Qu's most famous poems, Crossing the River, inspired Yi and Cao's artwork:
I've been wearing beautiful dresses since I was a kid
And still love rare clothes,
A long gem-studded sword hangs by my side,
And a top hat I'm wearing.
Covered with pearls that glitter like the moon,
With pendant of fine jade,
Though there are fools who cannot understand,
I pass fearlessly.
The design features pearls and jade, symbols of Qu's perseverance during exile. The dominant colors reflect Qu's five-tone threaded bracelet, a symbol of good fortune that drives away sickness and misfortune.
You can see their boat and all the new designs at the festival on the last weekend of June. The boats and art commissions are the largest capital investment in the history of Dragon Boat BC
Yi and Cao expect to be there to cheer on the athletes and enjoy the festivities. However, one thing they won't do is row the boat they designed.
"I wish we were athletes," Cao said with a laugh, "but we're artists."