Despite some of the biggest names in music taking the stage at Saturday night's Queen's Platinum Jubilee Concert, the real scene-stealer of the night was a duffle-coated, marmalade-munching teddy bear.
Yes, of course we are talking about Paddington.
For starters, the Queen appeared in a skit that saw her sitting down for a cup of tea with the iconic character.
Over the course of the two-minute skit, Paddington watched tea pour straight from the spout before offering the monarch a sample of his favorite delicacy: a marmalade sandwich.
Admitting that he always has one with him just in case, the Queen then admitted, "Me too."
"I'll keep mine here," she then revealed, before opening her handbag and pulling out one. "For later."
When the royal family footman informed them that the show was starting, Paddington took off his cap and said: "Happy anniversary madam. And thanks. For all."
Viewers who tuned in to the broadcast over the weekend absolutely loved the skit and quickly flooded Twitter with praise for it:
The skit ended with both Paddington and the Queen tapping their teaspoons and cups on the opening beats of Queen's We Will Rock You.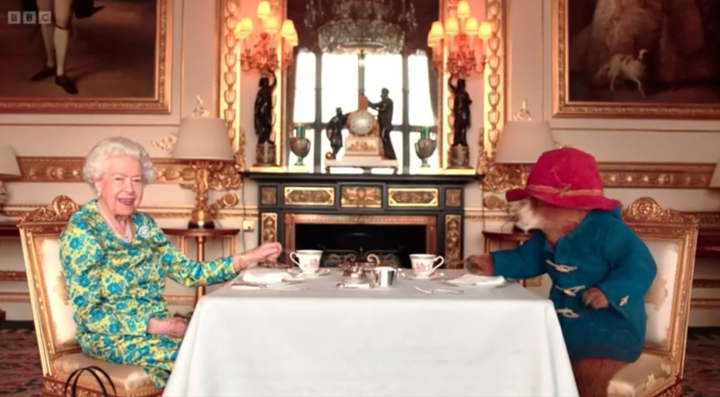 During the 2012 Olympics, the Queen previously tried her acting chops in a skit with Daniel Craig as James Bond, which ended with her "jumping out of a plane" and skydiving into the stadium.
In recent years, Paddington has been reintroduced to a whole new audience thanks to the two star-studded films about him, with Bafta winner Ben Whishaw portraying the titular character.
Its sequel Paddington 2 is actually one of the highest-rated films of all time, with a near-perfect score on the film review website Rotten Tomatoes.