As more and more therapists worked remotely and older therapists retired, "we were bleeding $12,000 a month, which isn't sustainable."
Article content
The Argyle Institute planned to celebrate its 40th anniversary this year – 40 years of accessible mental health services to the Montreal community and 40 years of training future therapists.
Article content
But the party was not allowed.
Article content
At a Zoom meeting on Aug. 18, the nearly 60 therapists associated with the nonprofit community institute learned that the Argyle "would no longer be able to continue operations and would be disbanded," said therapist Brian Wrench, an associate member who has been associated with the Argyle since doing his own training there 25 years ago. On August 22, the therapists voted in favor of the resolution to disband, the Argyle shut down on August 31, and will have exited the Westmount space by September 30.
The news of the closure came as a shock to much of the Argyle community. "Many of the therapists involved with the Argyle had been there for years; they had been trained there and had become clinical members or associate members," Wrench said.
Article content
"It's very sad for the people who built the Argyle — and very sad for the Montreal community," said Argyle therapist and board member Lisa MacMartin, who is working to spread the word about the closure.
Part of Argyle's mission was to help low- to middle-income clients: The rate at most private clinics and centers is $130 to $200 per session, although sliding scales are available in some cases. At the Argyle, a fee scale based on annual income and number of dependents ranged from $45 per session to $105. Although the Institute was located in Westmount, it attracted clients from all parts of the island and beyond and offered services in the English and French.
It was also a place where graduate students from six Quebec universities could receive their practical training as interns under the supervision of Argyle therapists.
Article content
What isn't widely known is that the Argyle struggled financially for much of its existence, MacMartin said, even closing a few times. "It has always been a very precarious financial situation," she said.
Still, the Argyle always found a way to carry on—until the pandemic.
The majority of the 60 therapists associated with the institute rented office space there. Their payments, averaging $700 a month, covered nearly $30,000 monthly rent for the Argyle Institute space in a Ste-Catherine St. building near Greene Ave. It had 28 offices for therapists, board and classroom space, a kitchen, library and office space for the trainees.
The interns were not paid; the fees their customers paid went to the center. Otherwise, apart from a small administrative fee for opening a file, the Argyle didn't earn any money from her clients: those fees went to the therapists.
Article content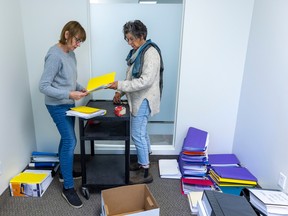 A generous lease meant that therapists could terminate the leases for their Argyle office space with six months' notice and pay a three-month fine. This would have worked to everyone's advantage when the offices were in high demand, but when the pandemic hit in March 2020 and therapists started working remotely, more and more of them gave up their office space.
"And that's apparently what sank the ship," said Wrench, who was an internship supervisor with the Argyle.
As more and more therapists started working remotely and older therapists retired, "we were bleeding $12,000 a month, which isn't sustainable," he said.
Therapists working remotely in most other offices and centers in Montreal continued to pay rent, and many returned to the office several months after the pandemic was declared. Wrench returned by the summer of 2020. "Being personal adds an element that – for me – is very important, if not essential," he said.
Article content
He works from a space in a Westmount building with three small offices and a waiting room. Therapists who rented space from him paid their rent "even if they didn't come in — and our little ship stayed afloat," Wrench said.
Although MacMartin rarely used her office in the Argyle, she kept it to support the Institute. "We knew rent was an issue because as the pandemic continued, we had more and more vacant offices," she said.
"Would we have continued even without the pandemic? It's hard to say. It felt like our model might not work because we were always struggling financially. It was the empty office that got us in trouble," MacMartin said.
Argyle's statutes have barred the center from receiving much pandemic aid. There was a $60,000 Canadian Emergency Business Account loan, of which $40,000 was to be repaid, and some temporary rent reduction.
Article content
"We'd been looking for donors to find solutions to our rental problem since the spring of 2022, and it suddenly came to a shattering end in August, when we realized we didn't have as much money as we thought we had," he said. MacMartin.
As the day to leave approaches, the nearly 200 clients have been placed on the waiting list with Argyle therapists and the 16 interns assigned to clinics in Montreal and Laval.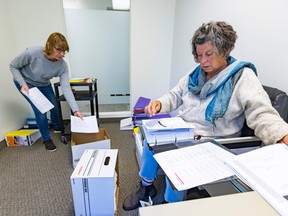 MacMartin and others have searched and zipped files – shredding older files and saving others. The fate of the Argyle Institute library, which contains some valuable books by influential psychoanalysts, including Sigmund Freud, is still unknown. Being a non-profit organization, everything had to be donated, not sold. And so far, MacMartin said, "we can't find anyone to take over our library."
In Memory of a Great Woman: Leticia (Letty) Cox, (1930-2018), Founder of the Argyle Institute

Opinion: The impact of pandemic on mental health could surprise us

More Quebecers Are In Need And Suffering From Anxiety: Psychologists