The fire service continues to see an increasing demand for service
Article content
After years of budget cuts and budget cuts, the Calgary Fire Department could expect a significant budget increase this fall, following a frank discussion at a Calgary city council meeting on Wednesday.
Article content
Fire chief Steve Dongworth appeared before the council's executive committee to issue a report on the risks his department faces and plans for mitigation.
The report included three options: increase staffing levels, purchase more MEWPs, and add fire stations.
But Mayor Jyoti Gondek saw a problem in the way the options were presented.
"What bothers me about these options is that they aren't options," the mayor said. "It's three things we have to do."
The total cost of capital of the three options was $51 million, with ongoing operating expenses of an additional $51.7 million per year. It would allow for the hiring of 315 new firefighters, the addition of four new and six converted air planes and the construction of two more fire stations.
Article content
Dongworth said even hiring staff is a challenge as the city can only train 90 to 100 new recruits a year. The chief suggested this could be speeded up a bit, and they've looked into streamlining the training in case more money comes in.
The fire service continues to see an increasing demand for service. Dongworth said the number of calls for service was up 16 percent last year from 2020, and this year the number appears to be closer to 20 percent.
Dongworth told the council that approving all three options would allow the fire service to save 75 seconds in response time.
The options presented still would not ensure the fire service meets NFPA 1710 benchmarks, which Calgary has failed to meet for years. The city instead has its own benchmarks developed in 2008.
Article content
The chief spoke of the challenges his department faces, including newer homes built much closer together from materials that burn faster.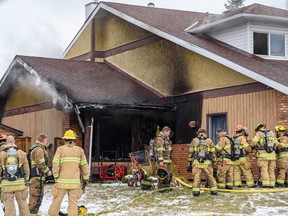 Another key issue Dongworth said is the proliferation of medical calls, particularly for opioid overdoses.
While it is the job of the EMS system to respond to medical calls, firefighters are also present and often first on the scene.
Dongworth said that as a percentage of total call volume, medical calls have increased by just over 50 percent.
Department 14 count. Peter Demong posed a hypothetical question to the chief.
"If you stop responding to medical calls and let EMS and AHS do their actual work, how would that affect your level of service in response to us?" he asked.
Article content
"It would obviously help us," Dongworth replied. "I would suggest that that would be a tragedy for the people of Calgary."
The chief noted that although the fire service does not receive financial compensation from the province for the medical work they do on the spot, the province has provided the medical supplies department and free medical training.
After the meeting, Dongworth told reporters he found the councilors' responses encouraging.
"In recent years we have been asked to be very frugal with our budget and even reduce parts of our budget. So all those things add up," he said.
Dongworth said technically the fire service's budget has increased slightly, but not nearly enough to keep up with the increasing demand from a growing city.
Article content
Gondek said she has spent the past four years as a councilor seeking funding for the fire service and fighting general budget cuts. She said this new council seems to see firefighters as more of a priority.
The mayor said that with news of a $3.9 billion provincial surplus, there will have to be some "pretty real" talks with the county.
"I'll make sure we advocate for a share of that $3.9 billion," Gondek said. "Especially given that we are now picking up the medical call pieces and have a budget request from our fire service that is also intended to cover medical calls."
Wednesday's discussion was a report for the information of the council. The final decision on financing will not be taken until December during budget discussions.
[email protected]
Twitter: @brodie_thomas