Moscow: The Kremlin said on Tuesday it did not rule out sabotage as a reason for damage to Russia's network of Nord Stream pipelines that caused unexplained leaks in the Baltic Sea.
The pipelines, designed to bring gas from the Yamal Peninsula in western Siberia directly to Germany – Europe's largest economy – have been the focus of an energy war between Russia and its traditional European customers over the conflict in Ukraine.
Nord Stream AG, the network operator, said earlier on Tuesday that three offshore lines of the Nord Stream gas pipeline system suffered "unprecedented" damage in one day.
When asked whether sabotage was the cause of the damage, Kremlin spokesman Dmitry Peskov told reporters: "No option can be ruled out now."
The Kremlin, Peskov said, was deeply concerned about the situation, which required immediate investigation as it was an issue affecting the energy security of the "whole continent".
"This is very worrying news. We are indeed talking about damage of an unclear nature to the pipeline in Denmark's economic zone," Peskov said. "This is an issue related to the energy security of the entire continent."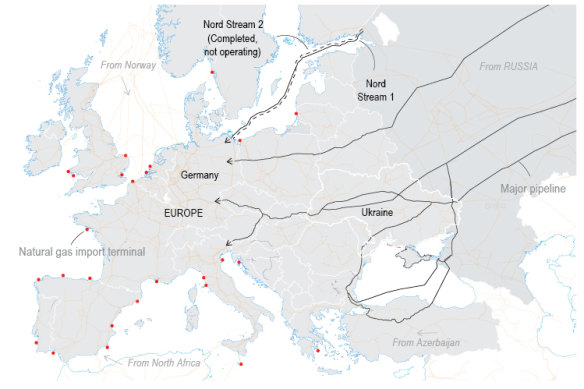 The Nord Stream 1 and Nord Stream 2 pipelines have a combined annual capacity of 110 billion cubic meters – more than half of Russia's normal gas export volumes.
The Swedish Maritime Authority warned of two leaks in the Nord Stream 1 pipeline shortly after a leak in the nearby Nord Stream 2 pipeline was discovered, forcing Denmark to restrict shipping within a five-nautical-mile radius.