Russian artillery shelled from various directions as the Russian army approached from various directions, regional governor Serhiy Gaidai said on Ukrainian television.
"The superiority in firepower of the occupiers is still evident," Zelensky said. "They just used all their reserves to hit us."
A senior Ukrainian military official, Oleksiy Gromov, previously said Kiev planned to send troops to Snake Island, but did not specify a timeline.
"We are currently checking [the island] with the help of our weapons: long-range artillery, missile units and aviation," Gromov said.
Russian Defense Ministry spokesman Lieutenant General Igor Konashenkov said the withdrawal was intended to demonstrate that Moscow was not hindering UN efforts to establish a humanitarian corridor for the export of agricultural products from Ukraine. . But that was before Friday's strike at the apartment building in Odessa.
Loading
Ukraine and the West have accused Russia of blocking Ukrainian ports to prevent grain exports, contributing to a global food crisis. Russia has denied that, saying Ukraine must remove mines from the Black Sea to allow safe navigation.
Turkey has tried to strike a deal to unblock grain exports. But talks dragged on, with Kiev expressing fears that Russia will misuse the mine removal to attack Odessa.
Snake Island is located along a busy shipping route. Russia took control of it in the early days of the war in the apparent hope of using it as a staging area for an attack on Odessa. Ukraine's largest port is crucial for shipping grain to Africa, the Middle East and other parts of the world. It is also the headquarters of the country's navy.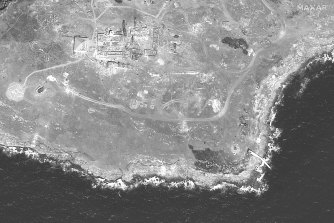 The island — shrouded in myth since ancient times — took on legendary significance for Ukraine's resistance to Russian invasion early on, when Ukrainian troops there reportedly received a request from a Russian warship to surrender or be bombed. The answer supposedly came back: "Go [expletive] yourself."
Ukraine has celebrated the story with patriotic fervor and issued a postage stamp in commemoration.
The Ukrainian defenders of the island were captured by the Russians, but later released as part of a prisoner swap. After the island was taken, the Ukrainian army heavily bombed the small Russian garrison there and its air defenses.
Loading
At a NATO summit in Madrid, British Prime Minister Boris Johnson called Russia's withdrawal a sign that Ukraine will prevail in the war launched by Russian President Vladimir Putin. "Ultimately, it will prove impossible for Putin to contain a country that does not accept the occupation," Johnson said.
Meanwhile, Moscow continued to push to take control of the entire Donbas region of eastern Ukraine. It is centered on the city of Lysychansk, the last remaining Ukrainian stronghold in the Luhansk province.
Russian forces and their separatist allies control 95 percent of Luhansk and about half of Donetsk, the two provinces that make up largely Russian-speaking Donbas.
Ukraine said the Russians shelled Lysychansk and clashed with Ukrainian defenders around an oil refinery on the outskirts.
Luhansk governor Serhiy Haidai said Russian reconnaissance units trying to enter Lysychansk on Wednesday were repulsed. He said the Russians were trying to block a highway used to deliver supplies and completely surround the city.
"The Russians have practically deployed all their troops to capture the city," Haidai said, but denied that Lysychansk was surrounded.
Nevertheless, Haidai noted that as of Thursday evening, evacuations from the city were impossible due to heavy shelling and mine access roads. Earlier, a representative of the Ukrainian army said it had no intention of withdrawing from Lysychansk.
Loading
Reuters, AP
Receive a note directly from our foreign correspondents about what makes headlines around the world. Sign up here for the weekly What in the World newsletter†