The $75 payments are intended to cover food losses after last weekend's violent storms.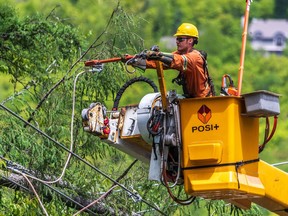 Article content
Quebec's government announced on Saturday that it would offer payments to cover food losses suffered by beneficiaries of social assistance programs during last week's power outages.
Article content
A week after severe storms hit Quebec, nearly 11,000 homes are without electricity.
Households on social assistance that were without power for more than 24 hours are entitled to $75 per person up to a maximum of $300 per family.
"It is essential to support the most vulnerable people in our society," Labor Minister Jean Boulet said in a statement.
Saturday shortly after 8pm, more than 6,000 Hydro-Québec customers were still without power in the Laurentians.
On Friday night, Hydro-Québec said on Twitter that its teams would "work all weekend to restore power as quickly as possible".