But chances are they won't be the last in the near future.
"I think it is very likely that given the appalling conditions in Sri Lanka right now, affecting the entire population, we will see more people trying to flee Sri Lanka," said spokesman Ian Rintoul of the Refugee Action Coalition.
Asked on Friday about the most recent arrival, a border force spokesman said "the department does not comment on operational matters".
Controversially, that was exactly what had happened when the first boat appeared on the morning of Election Day on May 21 after a perilous 19-day journey and issued a press release on behalf of the then Prime Minister Scott Morrison's office.
Prime Minister Anthony Albanese's new government has vowed not to back down from sending boats back, unwilling to return to the days of the previous Labor government when 50,000 people ventured on boats to Australia and at least 1,200 died at sea .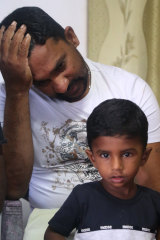 Rintoul claims the new boatloads have nothing to do with Labor's victory and are simply due to circumstances in Sri Lanka, but Abul Rizvi, a former deputy secretary of the Australian Department of Immigration, believes people smuggling networks are likely to be encouraged by the election results.
"It's probably reasonable to suspect that both factors contribute. That the smugglers want to test the new government and that they have more than enough people desperately in trouble to get involved," Rizvi said.
"The real question is whether the current government will stick to its decision and from everything it has said so far, I get the impression that it will."
Unlike the previous wave of asylum seekers from Sri Lanka a decade ago, who were largely fleeing ethnic persecution, the unemployed fishermen on the boat approaching Christmas Island last month were potential economic migrants.
Loading
When The Sydney Morning Herald and The age interviewed them last week at one of their parents' homes in Negombo, they said they "wouldn't make up anything" about death threats to get protection and had simply left for Australia to support their families. They had not paid people smugglers, but were traveling on a fishing boat owned by one of them, they said.
"People used to leave because they were afraid of death. Now the situation we face is we may starve," said 39-year-old father of three Warnakulasuriya Meril Christopher, one of those on board.
Still, Rintoul believes that, given ongoing discrimination against populations such as the Tamil minority in Sri Lanka, Labor should introduce a more thorough interview process to ensure asylum seekers are not put at risk again.
How many more authorities will face remains to be seen.
But since such a boat has never reached an uncut part of Australia when a return policy is in place, Rizvi thinks the message will eventually get through to even the most desperate of people in Negombo.
"Maybe there are a few more who will try, but I suspect once the news gets out that none have been successful… that no boats have passed through, you would be risking your money and your life? These boats aren't exactly safe," Rizvi said.
"Once it's established that they are being turned around, including by the Sri Lankan navy, I suspect people will stop paying people smugglers to do this."
Receive a note directly from our foreign correspondents about what makes headlines around the world. Sign up here for the weekly What in the World newsletter†