Article content
Travelers are advised to have some patience when navigating the increasingly frustrating reality of airport delays and flight cancellations.
Article content
Sarah Hupalo, owner of Elite Travel Windsor, said demand is high, but travel has changed since the pandemic hit.
"It's a different world and people have to be really, really patient and realize that things aren't going to be the way they used to be," Hupalo said. "It will take a while for us to get back to normal, but at the end of the day we are lucky enough to be able to travel and have these experiences.
"And sometimes it's worth a little annoyance to make that dream come true."
I've been doing this for a long time and it's definitely a different world to navigate
A long-time travel consultant said many clients want to fulfill their dreams and tick off their "bucket list" for travel.
"Things people thought to do on the once-maybe list are now becoming," she said. "But again, my advice to anyone traveling is to pack your patience."
Article content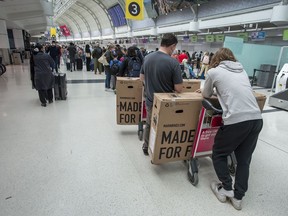 Hupalo said travelers should start checking flight status at least a week before departure and continue until departure, including for Toronto Pearson International Airport.
"And if they leave Pearson, they have to check in with Pearson," she added. "They should be there at least three hours before the flight, even if their flight is at 7am because of the issue with customs and the shortage of staff and all the processes that have been put in place."
According to recent reports from the Canadian Press, the federal government is working on new measures to reduce delays at major airports, which in many cases lead to a knock-on effect from canceled flights elsewhere.
People traveling through Canadian airports have faced long lines and flight delays as the number of trips increases after the pandemic, particularly at Toronto Pearson Airport. Slower processing times are attributed to COVID-19 restrictions and labor shortages.
Article content
Windsor International Airport chief executive Mark Galvin said there have been some flight cancellations and delays but he is not always aware of the reason for a cancellation, adding that it could be due to backups at Pearson, problems with a plane or stormy weather.
Because Windsor is a smaller airport with dispersed flights and few connecting flights, Galvin said travelers don't have the same issues getting through security and getting on planes — although delays elsewhere sometimes affect Windsor.
"There has undoubtedly been an impact. And it's a spillover effect from the hubs, like Pearson," he said.
Government is working on measures to end airport delays, say federal ministers

NAV Canada proposes the hours of air traffic control in Windsor . to decrease
Early Thursday afternoon, Galvin said only one Air Canada departure had been canceled but all other flights arrived on time.
Article content
"But again, that is always subject to change. As you get further into the day, sometimes these things back up and it can be kind of a cascading effect," he said.
"I would also always suggest that a traveler check with the airline, check on their own individual flight how that flight is doing."
Hupalo shares the same advice.
"I've been doing this for a long time and it's definitely a different world to navigate," she said.
If delays or cancellations occur, she advised travelers to contact their travel agent or the airline directly.
"They should be constantly looking at the entry requirements for where they are going. If they are delayed or something, they should be checking the flight status all the time."
jkotsis@postmedia.com