Article content
Count on an away game, or the fact that the scales have shifted, but the mood at Rogers Place was remarkably flat leading up to Edmonton Oilers' sixth playoff game against the Los Angeles Kings.
Article content
Fans trickled into the Downtown arena on Thursday night to support a struggling team. After narrowly defeating Edmonton in Game 5 on Tuesday, the Los Angeles Kings secured a 3-2 series lead, putting the Oilers on the brink of elimination.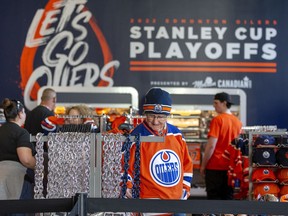 Bill Wilson and his son Matthew made it to watch a televised version of the home ice game with a sense of hope weighed down by the stakes.
"They have to play like the house is on fire," Bill said from Ice District Plaza, acknowledging that there was a tense atmosphere about the game. "They didn't have that sense of urgency last game."
Matthew was slightly expecting and hoping for a battle for Alberta between Edmonton and Calgary if the Oilers manage to get through.
"You never want to see your own team lose so quickly," added Bill. "It would be nice if they went a little further."
Article content
At Ford Hall, which was nearly empty at 6:30 p.m., Sherwood Park's Jon Gabrys said he was not as disappointed with the prospect of early shutdown as with the Oilers' performance over the past few games.
"They could have played a little better defensively and they wouldn't be in this place," he said. "Now is a good time for McDavid to stand up and show them why he is the best in the league."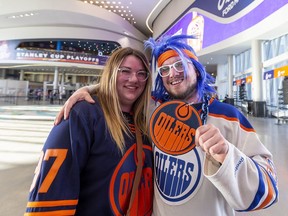 Waiting for the puck drop, Kalyn and Natasha Broster of Prince George, BC, decided to take the game after coming into town for the Chris Stapleton concert Wednesday night.
Kalyn, a self-proclaimed "diehard" Oilers fan, said he inherited his zeal from his grandfather, and tries to get to Edmonton at least once a year for a game.
Article content
Dressed in a Leon Draisaitl jersey, he also hopes the Oilers make it, joking that he'd throw his jersey on the ice if they don't.
Kalyn's wife Natasha, who was more of a marriage fan, wearing a Connor McDavid jersey, echoed Gabrys' assessment — that the Oilers may need a strong defense if they're to make it to Game 7.
"It's going to be a nail-biter for sure," she said, also recognizing the tension in the air.
But even if the Oilers lost, the pair wasn't about to let it put a damper on their journey.
"We hope for the best, of course," Natasha added, "but there's always next year."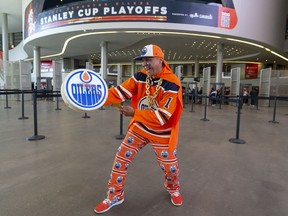 hissawi@postmedia.com