"(granting citizenship) is a procedure, a necessity. To us this is our country and we see no reason to be anything other than the people of the country." — Bob Baker, Cultural Advisor at Squamish Nation and co-founder of Spakwus Slolem
Article content
Selfie sticks were almost as ubiquitous as Maple Leafs on Canada Place Friday as at least a few thousand Vancouverites enjoyed their first live Canada Day celebrations since 2019.
Article content
There were no fireworks this year, but red and white were the colors of choice, with a generous amount of orange All Lives Matter shirts.
"This is his first Canada Day, we are so excited," said Azim Hassan, holding his five-month-old son Carim and his Maple Leaf-themed romper in his arms.
"This is the first Canada Day that we have been able to celebrate live since we became citizens," the Syrian refugee added.
Onstage, four moms from the North Shore raised the energy quotient to 11 with their dance and song routine on the Kids' Stage at Jack Poole Plaza, one of three stages at Canada Place on Friday.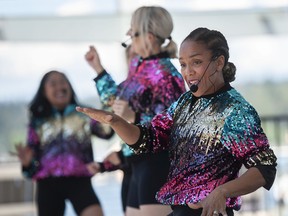 Cherine Casillan, one of the four dynamic personalities behind Mom Bop, was born at VGH in 1975, a year after her parents emigrated from the Philippines.
Article content
"This is the pinnacle for me, born and bred, to be in the spotlight in Vancouver," Casillan said.
"I'm a little touched because it's July 1st," she added, before taking a moment to calm herself.
The group came together during COVID to perform for children and their parents, and will soon even be heading to England to perform in Liverpool.
"This is great," said fellow mom Bopper Jolie Rochard-Choreajian, whose parents emigrated from Trinidad and Tobago in 1971.
"My parents came here, started all over again," said Rochard-Choreajian, her family among the crowd on the Kids' Stage. "Canada Day has always been our celebration, and now I'm performing here, oh my god, it's insane."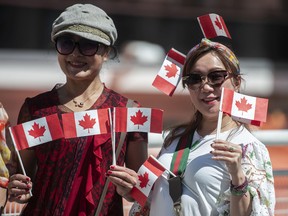 The Trinidad and Tobago Cultural Society of BC was one of several groups that gave the event a multicultural touch.
Article content
"The main reason I came to Canada," said Marilyn Perrin, president of the provincial Trinbagonian Society, "was for opportunity."
Which she's definitely found since she came to Canada in 1974, she said.
"Canada offers so much freedom, so many doors open for you."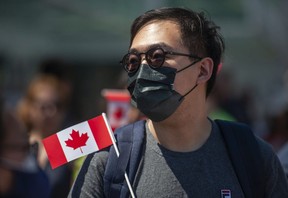 The downtown Vancouver celebration was one of several dozen such Canada Day events held across the Lower Mainland.
The Canada Place festivities were opened by the West Vancouver Youth Band, with Spakwus Slolem (Eagle Song Dancers) dancing and drumming behind them.
Bob Baker, cultural advisor at Squamish Nation and co-founder of Spakwus Slolem, had coordinated with the WVYB three years ago when it introduced the Squamish Symphony.
Article content
"Canada Day, well, it's another day," Baker said, adding that he still celebrates the Indigenous month. "It's nice to be here live and feel the energy and share that energy spontaneously.
"To express how we think about things, it's fun to do it live and in color. To neutralize negative energy and move forward in a good way."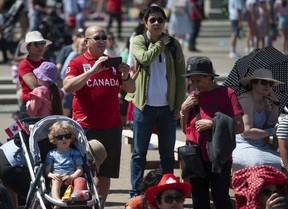 Canada Day, pre-COVID, was a day to welcome new citizens with pomp, an irony not lost on Baker, whose own people were not considered Canadian citizens until 1960, despite living here from time immemorial.
He took a moment to turn and get a wide view of Coal Harbor and the land of Squamish beyond.
"(Granting citizenship) is a procedure, a necessity," he said. "To ourselves, this is our country and we see no reason to be anything other than the people of the country."
Article content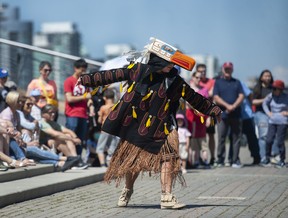 The Squamish Symphony, an amalgamation or First Nations music with a symphonic band, is a song that Baker captured, music that came back from ancestors or the Creator that Baker loved to share with Doug Macaulay, chief conductor of the Youth Band.
The conductor took the piece to Vancouver composer Robert Buckley and asked him to rethink it as a piece for the WVYB's symphonic band.
"To be here and carry out this groundbreaking West Coast Work at Canada Place, you can ask for nothing more for our young people, members of the Squamish Nation and for all Canadians," Macaulay said.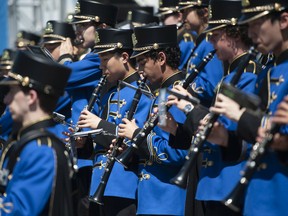 ---
More news, less ads: Our in-depth journalism is possible thanks to the support of our subscribers. For just $3.50 a week, you get unlimited, ad-lite access to The Vancouver Sun, The Province, National Post, and 13 other Canadian news sites. Support us by signing up today: The Vancouver Sun | The province.