Article content
Scott Williams credits Canada's only stroke ambulance for saving his life last summer.
Article content
The rancher in Rich Valley, Alta., began to feel unwell on August 5, 2021 while checking the quality of his hay. At one point he tripped, and at first he thought he might have had a cup too much coffee.
His wife drove him back home and as he lay down in bed he realized something was wrong. He told his wife that he had to go to the hospital. By the time he came out the front door, Williams said his left leg was "exceptionally weak."
"Two miles away I told her I'm pretty sure I'm having a stroke because by now I couldn't feel my left leg and my left arm and I noticed my speech was starting to falter and I was starting to atrophy which meant that my head was kicked to the left," he said, crediting his background in the emergency services for identifying the symptoms of stroke.
Article content
Rich Valley is about 55 miles northwest of Edmonton and when they reached Barrhead Hospital, about 75 miles northwest of the capital, they were told it was not a hospital equipped to treat strokes and a doctor contacted the stroke ambulance.
The ambulance is the only one of its kind in Canada and has been operating as a pilot project since 2017, funded by the University Hospital Foundation. It includes a CT scan, which does imaging in about 70 seconds, and sends about 100 images back to the University of Alberta Hospital.
The ambulance, which operates Monday through Friday from 8 a.m. to 4 p.m., has a crew of five: an advanced care paramedic, a primary care paramedic, a specially trained nurse, a CT technologist to keep the scanner working, and training a stroke fellow who is a neurologist in a stroke. The team will contact a neurologist at the hospital and discuss the images.
Article content
"We'll come up with a treatment plan, whether that's to give the patient to thrombolytics, so the clot breaker, or to take them back to where they came from because we can't find a stroke," primary care paramedic Kelly Brown said.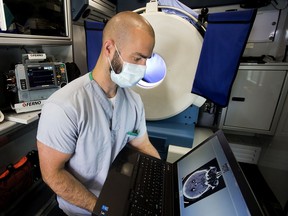 It has a catchment area 150 miles from the U of A, in either direction, and will normally meet a different paramedic crew. On the day of Williams' stroke, Barrhead's paramedic crew transported him and met the stroke ambulance at Onoway High School, where they were going to perform their treatment.
"By the time we got it to the suburbs of Edmonton, I was already starting to get movement in my toes and my fingers," Willams said. "By the time we got to U of A hospital, I had even more movement from the knee down and my arm from the elbow to my fingers."
Article content
At the hospital, Williams underwent further testing.
"Within maybe eight hours they came and told me it was a miracle that I was still alive and that I was doing remarkably well," he said.
Only in the last 30 years or so have advances been made in stroke treatment, said Dr. Tom Jeerakathil, a stroke neurologist. The stroke ambulance is one of those innovations.
"On average, we treat patients in rural areas about 68 minutes faster than standard care, which translates into about 136,000 brain cells saved," he said, noting that the average loss is about two million cells per minute.
"On average, we treat patients in the city about 37 minutes faster. That doesn't seem like much, but on average we treat city patients in the golden hour after the onset of a stroke, within an hour of the onset of symptoms, which is quite unusual in other systems, unless they got stroke ambulances."
Williams, who was 56 at the time of his stroke, was released from the hospital within days. The only lasting effect he has to deal with is fatigue.
"I can't imagine what would have happened if that stroke ambulance hadn't been on duty, or if it had been busy," he said. "I think I would have been bugged."
ajunker@postmedia.com