Her Greek-Australian mother was an opera singer, she grew up in Athens playing the piano and since moving to Melbourne with her family five years ago, she has learned about and become part of the city's rich contemporary Greek blues tradition.
Stavroula Thomopoulos is part of the Erinaki duo, founded with one of the city's most renowned rebetiko aficionados, Con Kalamaras.
Their music was born during and despite Melbourne's lockdown hibernation, they have grown from a duo into a group and have recorded enough original songs to launch their first album in March.
But it all started thanks to another musician that Stavroula cites as her second mentor along with Kalamaras, Wayne Simmons, whom she met at a school concert.
"I always smile when I think of him because he opened this door for me to rebetiko," says Stavroula Neo Cosmos.
Former music teacher Alphington Grammar invited her to join one of the weekly 'rebetiko jams' organized at 300, a taverna in Clifton Hill, to see for herself if she would enjoy singing that kind of music.
"The first week I went there, I was honestly shaking. In all, I probably knew five or six songs. Dad loved laiko and rebetiko and he played the music while driving us or at home on vinyl so I knew the songs but didn't know how to sing them properly.
Lockdown blues
The weekly inclusive music gathering became Stavroula's center of initiation into Greek blues and a place to connect with other artists, including Kalamaras, beginning an exchange of music and lyrics that grew into Erinaki.
"Our collaboration started during the lockdown. I remember Constantinos sending me a music recording and within half an hour I had sent back the lyrics. This was our first number."
When house calls were allowed, Stavroula and Constantinos would catch up for musical brainstorming sessions.
"We spent two to three hours, me on the piano, Constantinos on the guitar or sometimes on the bouzouki, and we wrote nine songs like that during the lockdown."
The tenth number is a karsilamas. And in fact, the album covers a range of genres.
"We are inspired by rebetiko, laiko, entehno and many of our songs are rooted in paradosiaka, such as 'Avgoustiatika', a balos style song, which we often hear in paniyiria."
Another is titled Athens, an ode to the city she knows and loves.
"One day Constantinos sends me this tune with baglama and says 'what can you do with this?' I started scribbling words in these post-its about Athens.
"In Greece we go out even younger than here, so I already had this experience. We wanted to describe this atmosphere that a getaway in Athens has. And I think we did. It sounds a bit more modern, with a bit of tsifteteli influence."
"Constantinos usually writes the music, I write the lyrics and we do the orchestration together.
"He is a multi-instrumentalist, he plays everything from guitar and bouzouki to even drums, I play piano, a beginner in guitar and I sing."
Like Mother like daughter
Stavroula is in her element when she sings. It's a talent that runs in the family.
"Mama was born and raised here, but studied for some time in Italy and performed as an opera singer and then also in Athens.
"She went to Greece for vacations at the age of 19-20 and met my father."
By the way, it was a love story meant for Stavroula's father, Panayioti, who met Maria while he was also in Greece on vacation at the time, visiting from Chicago, where he had moved to study dentistry.
"They say they wanted to get married from the second date. So they both came back to Greece and stayed there. The rest is history," says Stavroula.
The three children of the Thomopoulos family were raised bilingually in English at their mother's home.
But mother and daughter have also had a third language to communicate with Stavroula and from an early age found her niche in classical piano studies.
"Music is something that connects us on a different, higher level," she says, crediting her mother for her vocal training.
The skills are not only transferable in rebetiko and laiko. You may have seen Stavroula performing as the newest member of Greek swing band Cats and the Canary at events such as the latest Antipodes Festival and the HACCI Awards.
"I like trying out different types of music and when I meet people I enjoy collaborating with, it becomes easy to switch between genres."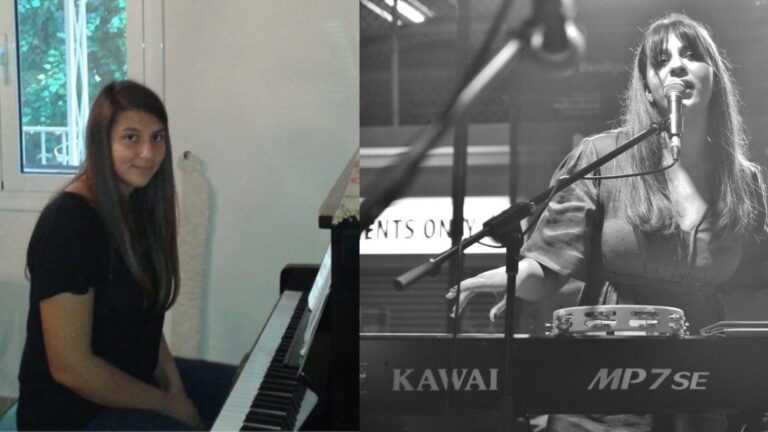 New children in the rebetiko block
Erinaki sounds like a musical project that welcomes this inclusivity.
"We went from Erinaki duo to big band Erinaki," says Stavroula, explaining that they have other musicians complementing them with more instruments, including Joseph Tsombanopoulos who played percussion on all album tracks and Adrian Close on bass.
Guitarist Alex Petropoulos is another regular of the group, who also met the Erinaki crew through the rebetiko jam, as is Yiannis Ramanitis, a bouzouki player who recently moved to Melbourne from Adelaide.
Is there a resurgence of Melbourne's rebetiko scene?
Stavroula thinks so.
"There are a lot of us young musicians in our twenties, some of them were Wayne's [Simmons'] students of guitar and bouzouki that we have found a new love in rebetiko."
"And this music is welcomed into the mainstream, especially here in the Northern Suburbs, Fitzroy, Northcote, Clifton Hill, where it fits under what is referred to as world music.
"We may not always play the old songs like we used to, but we still respect them. We just jazz them up a bit to make them more interesting to the modern ear.
Erinaki will launch their album on Sunday, March 19 at Northcote Social Club. Joining them on stage will be Joseph Tsombanopoulos, Alex Petropoulos, Adrian Close and more guest musicians, as well as supporting bands Omados and Delyrium.