Article content
How bad are the backups in Pearson's customs halls? So much so that the fire chief at Canada's busiest airport has warned airlines that letting passengers alight before being asked to do so violates the National Fire Code.
Article content
Fire Chief Todd Aitken issued the directive on June 23 and came into effect on July 1. A copy of the guideline shared with the Toronto sun blames the problems with passenger clearance through Pearson on federal government requirements.
"Toronto Pearson International Airport (Toronto Pearson) is experiencing significant disruptions to its operations, which is in part due to a reduction in throughput capacity when handling arriving international passengers, due to government-imposed processes and agency personnel," it wrote. aitken. †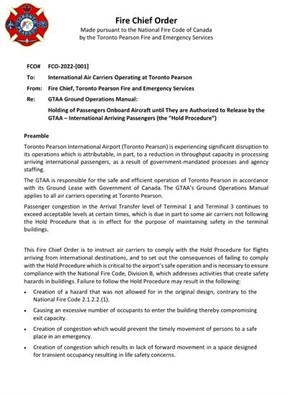 As a result, all international flights arriving in Toronto are now required to keep passengers on the plane until they are given specific instructions that they can be released.
Article content
"Incidents where an airline does not follow such instruction and release its passengers itself into the passenger terminal could result in the CBSA Primary Inspection Line being overrun with passengers, with queues regressing to the arrival transfer level. The resulting congestion creates safety risks, disrupts other activities in the terminal and on the platform and degrades the passenger experience," the directive said.
Aitken quoted Sec. 2.1.2.2 of the National Fire Code which states, "Activities which pose a hazard and which are not permitted in the original design shall not be conducted in a building."
All this to say that the customs halls in Pearson are so well secured that they have broken the fire code and become a security risk. By citing "government-imposed processes and agency personnel," Aitken once again demonstrates that the Trudeau administration is not telling the truth.
Article content
"On our side, we have done everything we can," Transport Minister Omar Alghabra said last week.
There are two areas of federal responsibility that contribute to the problems at airports, and both lead to different delays and problems for airlines and passengers. The FBI is responsible for processing international passengers through customs and for passenger and baggage security checks for passengers leaving Canadian airports such as Pearson.
Both are a mess and have been for months, dating back to the end of March, and while it is true that there are problems elsewhere, none have been as persistent or lasted as the problems at Pearson. Even other Canadian airports aren't so bad, though things are getting worse in Montreal, Ottawa, Vancouver, and Calgary.
Article content
The FBI wants you to believe they have no part in this, it's just the airlines and their scheduling issues, or they're claiming it's a personnel issue.
Let's be clear, as I've been from the beginning, the airlines have things that they are responsible for, including the disaster that has become baggage handling, but screening and customs are huge issues that are solely the responsibility of the federal government.
Prime Minister Justin Trudeau and his ministers must stop blaming slow passengers or bad airlines for things only they can solve.
As Aitkens noted, there are staffing issues at Pearson for the Canada Border Services Agency, which is responsible for customs brokers. The union representing these workers has been sounding the alarm on personnel issues for months; they also mentioned the issues caused by the ArriveCan app.
Article content
"Any border officer working on the front lines will tell you that the implementation of the ArriveCan application has increased processing time," union chairman Mark Weber told a House of Commons committee two weeks ago. "At airports, this means travelers are piling up in and outside the customs area."
The government ignored him and calls from airports, airlines, mayors of border towns and First Nations communities — in addition to the union — and extended mandatory use of the ArriveCan app until September 30, as federal officials consider making it permanent. At airports, this app is held responsible for the average passenger processing time going from 30 seconds to 4 minutes.
Multiply that by hundreds and hundreds of passengers per hour entering the country and suddenly the customs hall is stuck, planes are made to wait at the gate with passengers on board or sit on the tarmac because the gates are full.
Article content
This leads to missed connections, as a result of which extra passengers at the airport try to get new flights. It causes other flights to be delayed, it leads to baggage chaos, it leads to more problems – all because customs at Pearson don't work.
When entering the airport it is not much better.
On Sunday morning, just after 6 a.m., the security line in Terminal 1 stretched all the way through the Air Canada check-in area to the door. Airports and airlines are still telling passengers to arrive at least two hours before a domestic flight to ensure people can be processed on time.
Other airports around the world, such as Charles de Gaulle in Paris, are experiencing a strike and airlines and airports across Europe are seeing full or partial work stoppages. This is what the Trudeau administration is pointing out when it says other countries are experiencing the same kind of delays.
While Canadian airlines are among the most delayed as a percentage of their flights – Air Canada was the most delayed Saturday, WestJet was third, Swoop was fourth and Jazz was 10th – no US carrier or airport is experiencing as many problems as our airlines and airports.
The Trudeau government must stop trying to blame others and fix its own mess. Government officials can then turn to airlines or airports to solve their problems.