At the age of eight, Terry Danko, a native of Simcoe, first saw music icon Ronnie Hawkins at the Port Dover Summer Garden.
Reviews and recommendations are unbiased and products are selected independently. Postmedia may earn an affiliate commission for purchases made through links on this page.
Article content
SIMCOE – At the age of eight, Terry Danko, born in Simcoe, first saw music icon Ronnie Hawkins at the Port Dover Summer Garden.
Article content
He participated in the show with his older brothers, Rick and Dennis. "We were just amazed at this man," Danko, 73, recalls. "He was so energetic and took over the stage."
Hawkins, who died on May 29 at age 87, and his backup band, The Hawks, played stages throughout his decades-long career in Norfolk and Brant counties and other spots in southwestern Ontario. The Arkansas rockabilly singer had moved to Canada early in his career on the advice of country legend Conway Twitty, who settled near Peterborough.
Danko said Rick and another brother, Junior, had a band called Tin Pan Alley that played in the Simcoe area in the late 1950s. Seeing Hawkins and The Hawks play, Rick persuaded Summer Garden owner Don Ivey to leave his band open to Hawkins.
Article content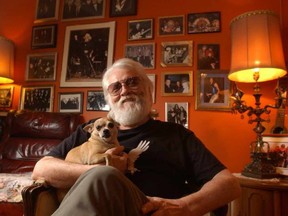 With a memory from 1960, Danko said that was how Rick met Hawkins, who was looking for a bassist replacement.
"He wanted to hire my brother Junior, who had just married. But Ronnie had a rule in his band: no married men. He looked at Rick, who was still young. So he had to talk to my parents first. Ronnie pleaded his case, saying, 'I'll take care of him.'"
The Hawks' lineup included Rick Danko, Robbie Robertson, who was born in Toronto but spent the summers of his boyhood on Six Nations of the Grand River with his mother's family, Levon Helm, Richard Manuel and Garth Hudson, all of whom left in 1964. Hawkins to form their own group The Band, which would achieve international success.
Terry Danko, who also played bass, played for Hawkins, occasionally, for about 15 years.
Article content
"He was a man who loved music, musicians and performing on and off stage," Danko recalls.
After a 14-hour day of sound checks and a show, Danko said he would get on the band's bus to relax and Hawkins would say, 'Hey, Terry, play me that song you wrote. "He was music 24/7."
Karen George has fond memories of her childhood playing Hawkins.
George, who was mayor of Brantford from 1987 to 1991, recalled how, at age 15, she and her older sister would watch Hawkins play in the Summer Garden every Sunday evening all summer long.
"We had a cottage in Avalon Park, a few miles from Port Dover," says George, 74.
"When I was older I would drive myself," she said. "I was glued to the stage for the entire performance. It was exciting and there was a lot of action on stage. He kept you going."
Article content
George also recalls seeing Hawkins perform at the Sanderson Center in Brantford in the late 1980s.
"I went backstage, like you could if you were mayor, and got to talk to him and tell him how much I really enjoyed him," she said. "He gave me a copy of his latest record and signed it for me."
She said the two reminisced about the Summer Garden. "He was absolutely the same person many years later and just as interesting to talk to. He was part of my childhood."
Robbie Robertson mourned the loss of Hawkins in a tribute on Twitter that included a black and white photo of the two onstage.
"My heart sank when I heard that 'The Hawk' just flew into the sunset," he wrote. "The Band's story started with Ronnie Hawkins. He was our mentor. He taught us the traffic rules."
Robertson wrote that he was 16 when Hawkins took him to the Mississippi Delta.
Article content
"He recorded two songs that I had written and thought I might have talent. He tried me on guitar and bass, the only problem was I'm too young to play in the clubs they toured at, I was too inexperienced, not yet a good enough musician, and there are NO Canadians in southern rock 'n roll bands. But I practiced until my fingers bled and he finally took me against all odds."
Robertson said Hawkins was proud to have top players in The Hawks.
"Together with Levon and me, this became the magic combination," Robertson noted. "After The Hawks left Ron and set out on his own, we joined Bob Dylan. Then the Hawks became The Band and tranquility is history, as they say."
Robertson said it all started with Hawkins. "Ronnie was the godfather. The one who made all of this possible."
bethompson@postmedia.com