Audiences swept up by Heartstopper had reason to celebrate last week as Netflix confirmed it had renewed the LGBTQ-inclusive teen series for an additional two seasons.
Based on the first two installments of Alice Oseman's web comic series turned graphic novels, "Heartstopper" follows Charlie Spring (Joe Locke), the only openly gay student at his boys-only high school. After his relationship with an incarcerated classmate collapses, Charlie is attracted to Nick Nelson (Kit Connor), a star athlete on the school's rugby team who appears to be straight.
At first, Charlie shakes off his feelings for Nick like an unrequited crush. However, a surprising series of events makes the two boys close friends in class and on the athletic field, leaving both of them wondering if there is anything other than platonic friendship.
In the weeks since its premiere last month, Heartstopper has become one of Netflix's most talked-about shows, earning excellent reviews and generating passionate discourse on social media.
While the series apparently catapulted Joe and Kit to stardom overnight, the 18-year-old actors didn't expect their performances to be so enthusiastically received.
"It definitely always felt like our little show," said Kit, previously best known for Rocketman, where he portrayed a young Elton John. "So to have it explode like this was really mind-boggling."
In a candid conversation with HuffPost, the two actors shared some behind-the-scenes anecdotes about their now iconic performances, collaborating with surprise co-star Olivia Colman, and where they hope to take Charlie and Nick's love story.
What attracted you as actors to Charlie and Nick's story, and what made you most excited to tell it?
Kit Connor: In terms of Nick… bisexuality isn't something that comes up very often in the mainstream media. So I think in our show we take an in-depth approach to let him explore and explore his sexuality. He goes from thinking he's straight to thinking he might be gay. Then he comes to the conclusion that he might be bisexual. I found that very interesting and important to bring to the mainstream media.
Joe Locke: I think Charlie is a recognizable character for a lot of people growing up. Although he is so universally recognizable, his story and stories like his – the struggle to be the only child in school – have not really been told before. It's great for me to be able to tell that story for my first acting job.
Where would you like to take Charlie and Nick's story in future seasons?
locke: As we follow Charlie's story from the web comic and the novels, his mental health deteriorates. I think that would be really interesting to tackle in the series and see how that comes about [impacts] Charlie and Nick's relationship. Not only do they get older, but their problems get more serious. What we created in Season 1 is an atmosphere that addresses serious topics, but through an optimistic lens.
connor: I think Charlie's mental health will definitely be a major focus. But we also go into how they learn to deal with that as a couple – how they learn the importance of creating a support system, while also learning that you can't always help and let people learn things on their own. That is a very important part of the web comic.
Olivia Coleman's portrayal of Nick's mother was such a big surprise, as her casting was kept a secret until the series premiere. What have you learned most from working with her?
connor: I filmed with Olivia for two days and they were great. I think she's one of those actors who is just effortlessly good, skilled and talented. She would go from bubbly and happy to serious and emotional once the crew said "Action."
As far as I know, she approaches her roles with a lot of freshness. She reads a script a few times, then just goes for it and sees where it takes her. That's what I try to do as an actor.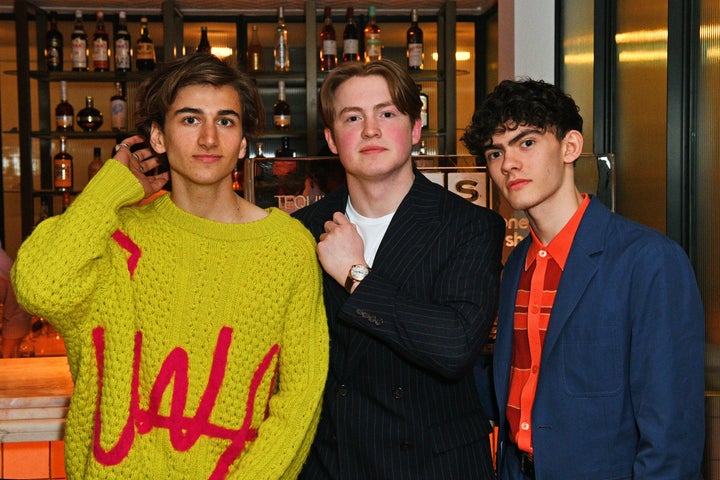 locke: I haven't been able to work with her as much as Kit. She is so high in her career and a household name, but she spent so much time during the day talking to everyone and putting everyone at ease instead of sitting relaxed in her trailer. That's great to maintain. She's just a really sweet person.
What movies or television shows did you watch growing up related to LGBTQ representation?
locke: Modern Family was a big one.
connor: Yes! Modern Family was the first time I saw an openly gay couple on screen. Obviously a big deal was made on it, but they didn't make it look abnormal. It was very much normalized, and I think that's a first step towards a healthy image of queerness in the media.
A number of young viewers have credited the show with helping them come to their families as LGBTQ, or speak to their truth in other ways. What do you say to fans who look to your characters as role models?
locke: It's an honor to create a series that means so much to so many people. Growing up, if I'd had Heartstopper, I would have felt a lot more normal.
So I hope that's what we can do [provide] also for younger people in the next generation, because it will always be there as long as Netflix lives. It will always be there for people to watch, and for younger people to watch. They all deserve love and happiness.
connor: We are teenagers ourselves, and being able to have that effect on someone's life, self confidence and self love is something that is so powerful. I felt very emotional when I first heard that a fan had used a scene I filmed to come out to their parents. That's a real "pinch me" moment, and that's what told me that this show has an effect on the audience that even we didn't expect.
This interview has been lightly edited and abbreviated.