The Aotearoa/New Zealand band Six60 started their Australian tour unlike any other show at home.
Most important points:
Six60 started in 2008 as a student cover band at Dunedin's University of Otago
Kia Mau Ki Tō kaipō urges Māori to stick to their culture and connection to the land
Aboriginal and Māori dancers performed on their Australian tour in an 'amazing' display of cultural pride
As the thick bassline of Don't Forget Your Roots rumbles, Nunukul Yuggera Aboriginal dancers emerge from the wings, silhouetted against a red, smoke-filled stage.
The sound of the didgeridoo echoes, hauntingly, above a sold-out crowd of 10,000 as a Māori kapa haka group enters.
Singer Matiu Walters begins – first in English, "don't forget your roots, my friends, don't forget your family", before switching to Māori, "Kia Mau Ki Tō Ūkaipō."
Fans are frantic when two cultures come together – Māori women skillfully twirling their poi (a light ball on a string), with style and grace.
The ensemble reaches a crescendo with a strong display of the Ka Mate Haka.
It was an experience Nunukul, Jagera and Yamatji man Ashley Ruska will not soon forget.
"Sometimes we might only have five minutes to jump up, do some kind of symbolic performance, not be rude or anything, but that's the way it can be," he said.
"It's rare that someone asks us to be involved in the show as well.
For cultural coordinator Dre Ahipene, Māori and Aboriginal and Torres Strait Islander, cultures have similar "rules of engagement and understanding."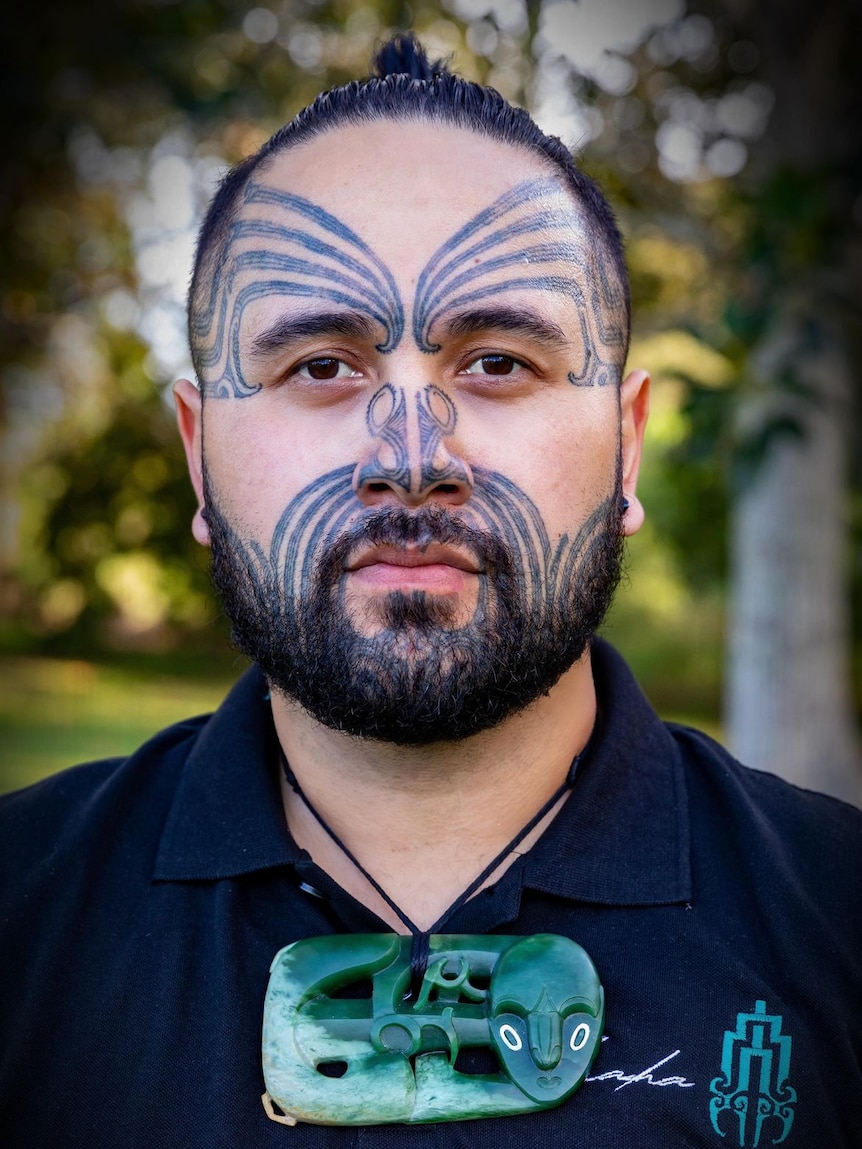 So platforming native artists alongside their own artists in every Australian town the band played in was a no-brainer.
"I could see people of culture recognizing themselves in what was happening on stage and claiming groups and family performing."
University of Otago to the world stage
The band that brought Ruska's dance troupe into their act in Australia, Six60, was born in 2008 on the rugby fields of Otago University in Dunedin.
Between games and study, the twenty-somethings – Matiu Walters, Eli Paewai, Ji Fraser and Hoani Matenga – entertained their peers with covers of Kiwi icons Kora, Katchafire, Shapeshifter and Fat Freddy's Drop.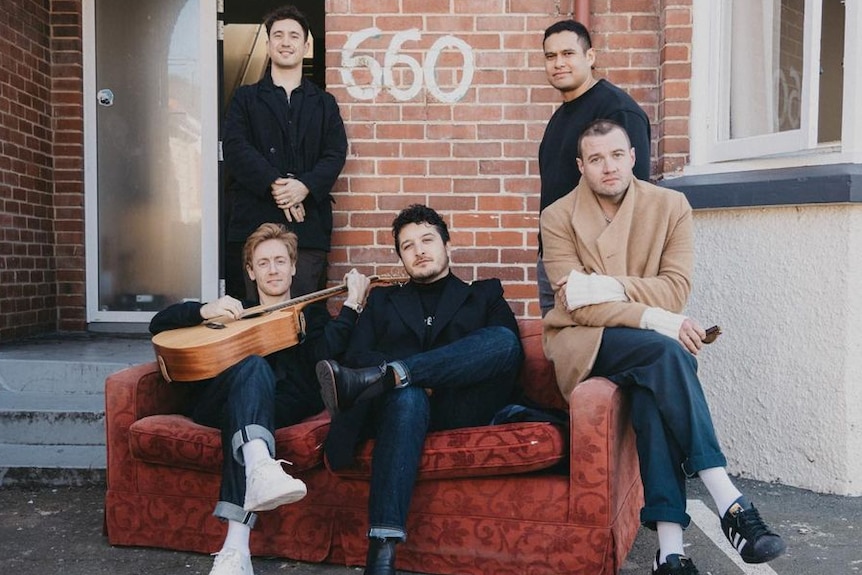 The students played bangers from the top floor of their flat at 660 Castle Street, later hiring Chris Mac as their bassist and Marlon Gerbes playing guitar, samples and synths.
'Joy and ease' is the goal
Walters joins the ZOOM call from an iPad in his Auckland living room.
"I need to get this camera going," he says.
Halfway through the interview, a cheerful toddler pulls up next to the couch. He turns the iPad so 1-year-old daughter Boh can say hello.
He is the humble front man of a band with 1.5 million listeners a month on Spotify and yet just an ordinary father.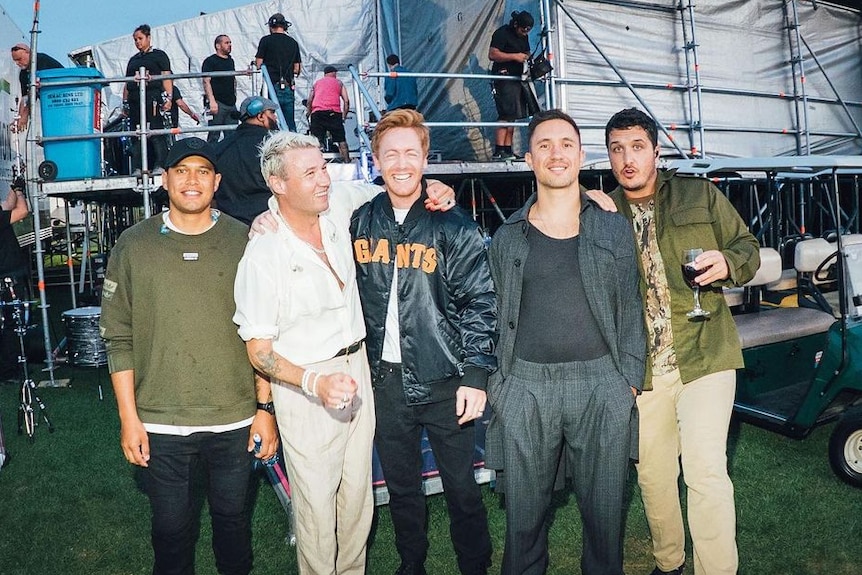 Unassuming and accessible, it's no wonder Aotearoa loves Six60. So do Australians.
Selling out shows but not selling their values, the quintet was determined to make it big on their own.
Since 2011, they have been producing and releasing music under their own label Massive Entertainment.
Their success is unmatched by other Aotearoa artists.
In 2019, they became the first New Zealand band to be daring – and popular – enough to fill the Western Springs Stadium, with 50,000 adoring fans.
Previously, heavyweight international artists such as the Rolling Stones, Fleetwood Mac and Eminem were the only ones who could do that.
'Feel, belong'
Nearly ten years after the release of the hit Don't Forget Your Roots, Six60 reinterpreted it as part of the 2019 Māori Language Week.
The new version, Kia Mau Ki Tō Ūkaipō, encourages Māori to hold on to their culture and connection to the land wherever they are in the world.
But, Walters admits, it wasn't an easy process for himself or fellow Māori bandmates Eli Paewai and Marlon Gerbes.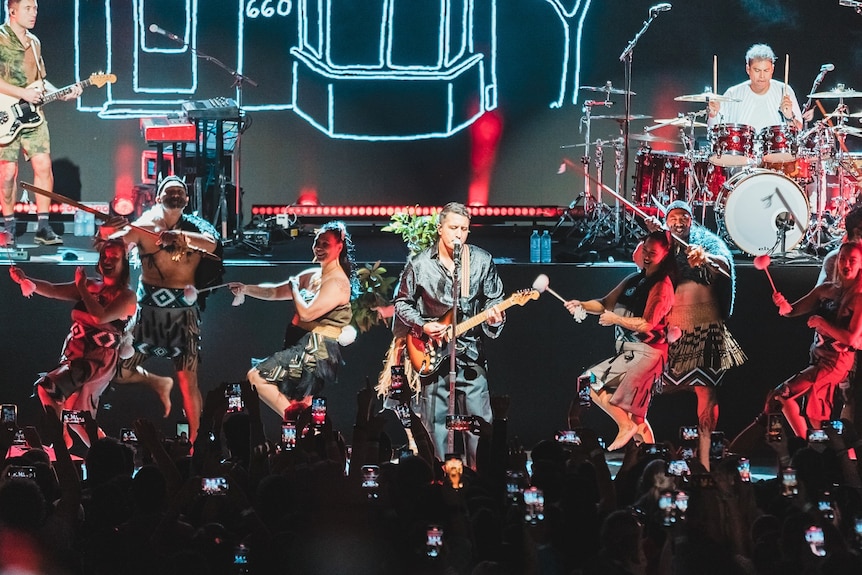 This separation is common, Walters said, but he hopes the music gives young Māori a sense of cultural pride and an eagerness to learn the language.
"I think we now represent a lot of young Māori in the world who are struggling between where they stand in the culture and quite ashamed to be involved and speak up," he said.
"We like to take on the mantle to show other people that it's okay and that it's cool."
While Te Reo (Māori language) won't be on the band's upcoming album, Walters said that Te Ao Māori (Māori worldview) will be.
Whānau above all
A lot has changed since they played rugby and reggae covers at the University of Otago.
Loading
"Now I have a young daughter and I have my own family, which has put a lot of things in perspective," Walters said.
Walters said fatherhood has "softened" the members of the band.
"We are thinking of" [our children] and try to write for them and write lessons for them," he said.
It has also helped to silence the inner critic.
"I don't feel like I'm on my own anymore and that really helped me ground.
"There's something much more important and much cooler than being in Six60. So that makes it a lot easier."