New album from Edmonton thrash metal is officially released with a Saturday show at Rendezvous Pub.
Reviews and recommendations are unbiased and products are selected independently. Postmedia may earn an affiliate commission for purchases made through links on this page.
Article content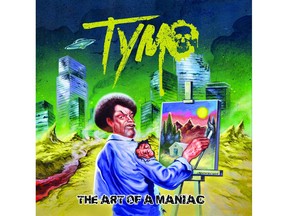 Never judge a book by its cover, but the rule doesn't apply to metal albums. The genre isn't known for its subtlety and if the album cover shows death, destruction or something that appears to have been ripped from a Z-grade horror VHS front, you know what you're getting.
Edmonton thrashes TYMO's new album The Art of a Maniac, plastered with a mutated Bob Ross and his canvas for a bombed city with a UFO hovering in the background, heralding the songs of carnage within.
The guys have been improving their skills since Purge & Reset 2017, as The Art of a Maniac is not only faster, but also bolder. One song after another pounding and pulverizing, leaving the listener giddy and stunned with a finger on the repeat button.
The album kicks off with a little needle creak and jumps into Tymonicide, an instrumental rife with machine gun guitar solos and rapid-fire drums slamming the song into a gooey mud.
Article content
The single Sanity Clause incorporates many of the album's themes: choking on sanity, keeping demons at bay through self-medication, and loyalty to Satan. Hey, it's ironic, or rather ironic, the way the band's vocalist-guitarist Tim Tymo growls and howls over the songs.
War Beneath the Skull beckons the listener with his galloping guitars to swish their manes back and forth; this one could easily be the soundtrack from chopping wood under a full moon to gardening on a blistering summer day in your leather and denim.
But how hard does it hit? Folks, The Art of a Maniac is booming at a level that surpasses the safe headbang levels. Guitarists Tymo and Nick Schwartz played wizards with the times and found a way to cram a plethora of riffs, while Harlen Jacobs anchors this madness with pulsating bass and Marc Durie's drums replicate the sound of the kicking of a drum set from the towering escalator in Rogers Place.
Listen to TYMO's The Art of a Maniac on Spotify or Bandcamp or visit tymo.ca. An official release party for The Art of a Maniac will take place on May 14 at Rendezvous Pub, which also features Rising Sun, Naitaka and Kill With.
yegarts@postmedia.com