Retail food prices rose 8.7 percent year-on-year in March
Article content
According to Statistics Canada's latest consumer price index, grocery bills are rising at the fastest pace in 13 years, driven by wide swings in the price of butter, cheese and pasta.
Article content
Retail food prices rose 8.7 percent in March compared to the previous year — the highest year-on-year increase since 2009. Food price increases surpassed general consumer price inflation of 6.7 percent for March, Statistics Canada reported Wednesday.
Dairy and egg prices rose faster than since 1983: milk prices rose by 7.7 percent, cheese by 10.4 percent and butter by 16 percent. Pasta rose 17.8 percent in March at a time when wheat supplies are tight as a result of last summer's extreme drought, which has drastically reduced crop yields in western Canada.
Statistics Canada said the price of breakfast cereals is up more than 12 percent year over year — the biggest increase since 1990 — as wheat futures prices hit "a 14-year high in the context of the Russia-Ukraine conflict, two major wheat exporters."
Article content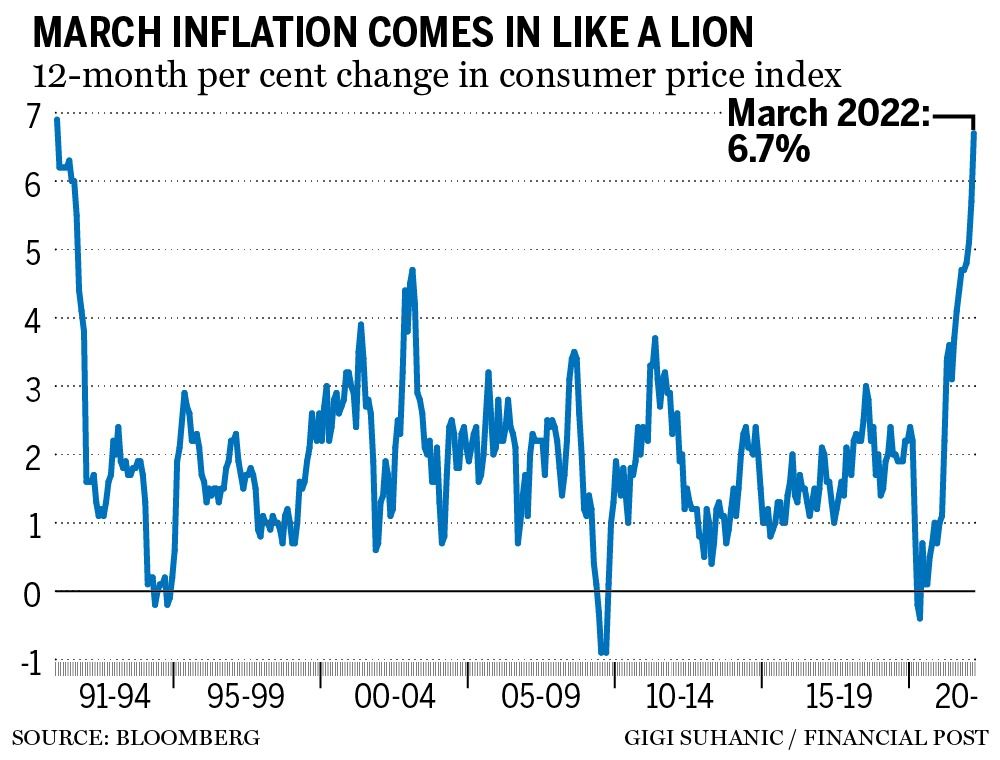 Rising costs of fuel, fertilizer, ingredients and transportation have rippled through Canada's agri-food sector, most clearly in the dairy industry.
In February, the Dairy Commission of Canada (CDC) – the federal agency that controls on-farm milk prices under Canada's supply management regime – announced an 8.4 percent increase in the price dairies pay farmers for their milk. The historic increase was intended to account for higher fuel, feed and fertilizer costs, the CDC said.
Kevin Carmichael: Roaring inflation leaves Bank of Canada little choice but to get strong

Canada's inflation is much higher than expected

Half of companies surveyed by the Canadian Chamber of Commerce say rising costs are the biggest challenge

'We had a deal': US dairy farmers accuse Canada of games in cheese dispute
Article content
Processors responded with their own price increases. Lactalis Canada Inc. — part of the French dairy giant that owns Beatrice milk, Astro yogurt and Black Diamond cheese, among others — raised grocery prices to 15 percent to account for the CDC's milk surge and increased labor, transportation and packaging costs .
Canada's major supermarket chains say they are under pressure from suppliers to pay more for product shipments, but some have pushed back — resulting in public disputes that have taken the product off shelves. At the end of last year, the global confectioner Mondelēz International Inc. shipping Oreo and other cookie brands to Loblaw Companies Ltd., after the supermarket chain refused to pay more for the products. That situation played out again, much more publicly, when PepsiCo Inc. stopped shipping its Frito-Lay snack products to Loblaw stores across the country in a price dispute that dragged on for two months this spring.
• Email: jedmiston@postmedia.com | Twitter: and the kitchen