DKE Toys offers one of the most interesting booths on the floor of San Diego Comic-Con, displaying their designer art toys. Over the years, they have delivered everything from political satires to one of the best exclusive films of all time.
New this year, after two years of virtual drawbacks, DKE will adopt a split approach. All of their exclusive offerings will launch first through an online sale on Friday, July 15 at 12 p.m. PT. Owner Dov Kelemer will be on Instagram Live shortly before the sale to answer any questions.
Anything that doesn't sell out will be taken to San Diego Comic-Con – and anything left over from the convention will be posted to the site after the show.
You can catch DKE at booth #2643.
Let's take a look at what DKE will have at Comic-Con this year:
[UPDATE July 1]
Cherry red dress from Larry Welz x Discordia Merchandising – $75
Digitally printed and hand painted 4.25″ carded resin figurine"
Signed and numbered edition of 20
Instagram @cherrycomix
Elon Musk Version 04.25 by King Spider Toys – $50
Hand cast and painted 3.75 "scale carded resin figure"
Signed and numbered edition of 20
Instagram @king_spider_toys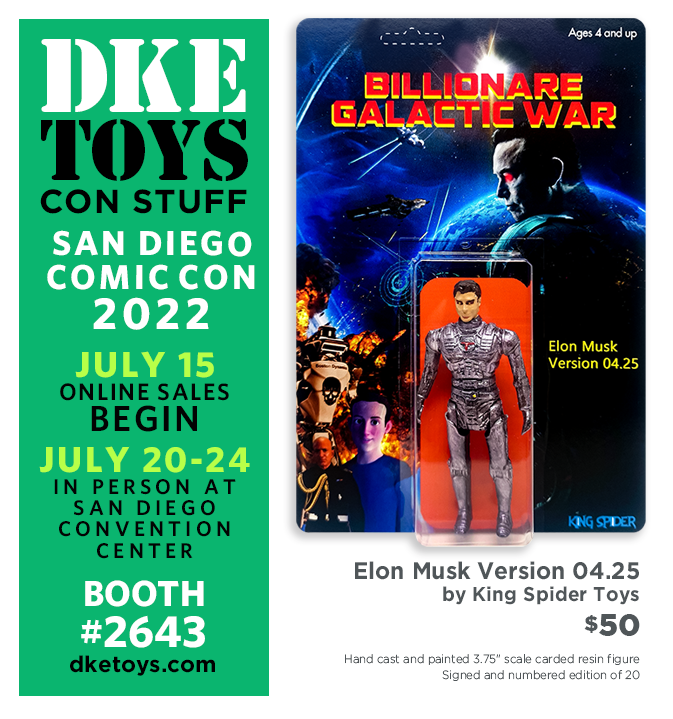 Gay Universe from Shark Sandwich Toys – $80
Hand cast and painted 5.5″ carded resin figurine"
Signed and numbered edition of 20
Instagram @slinnjoe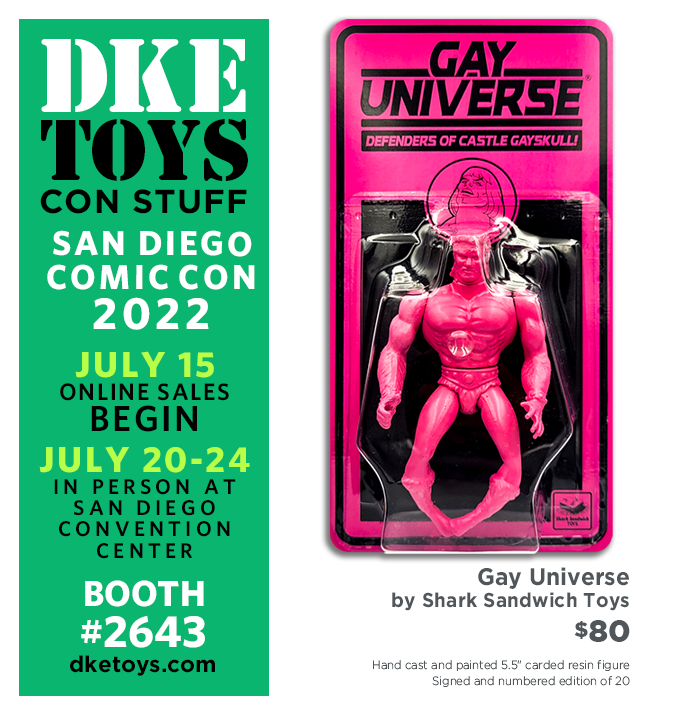 Bootleg Gold by Lou Pimentel x Sukadelic – $30
Hand cast and painted 3.75 "scale carded resin figure"
Signed and numbered edition of 200
Instagram: @loupimentel @sucklord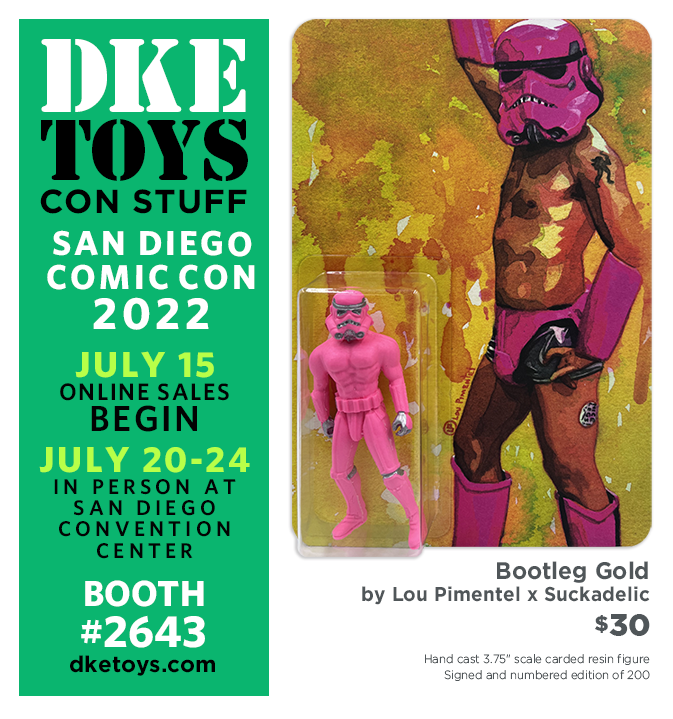 [UPDATE June 30]
The Hot Buttered Croissant of Death by Steve Casino – $100
Hand cast and painted 4″ carded resin figure
Signed and numbered edition of 20
Instagram: @stevecasino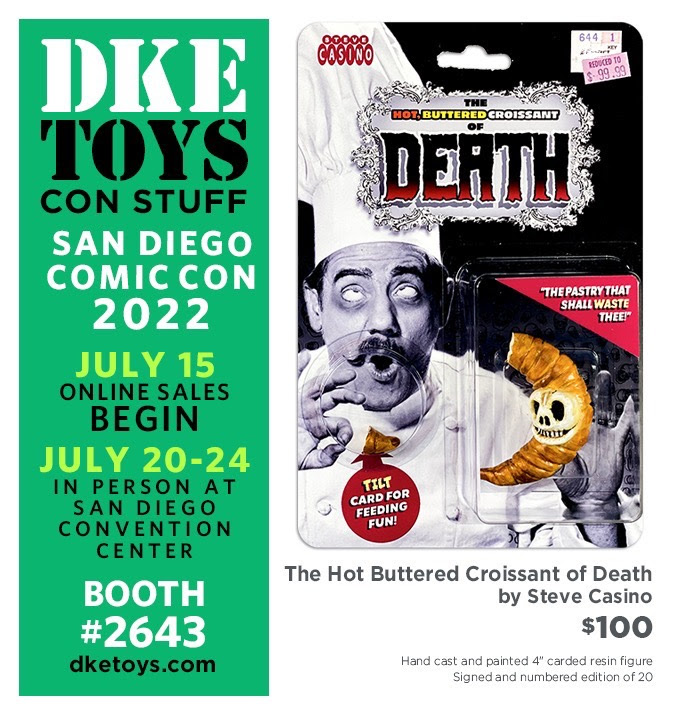 Phantom Jawa Killer by Figure FETTish – $50
Hand cast and painted 3.75 "scale carded resin figure"
Signed and numbered edition of 20
Instagram @figurefettish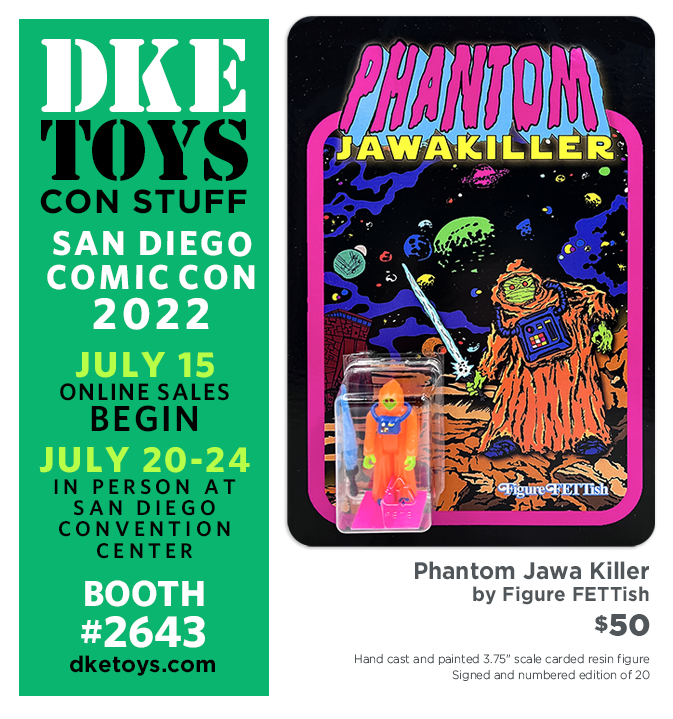 Magic mushrooms from Rap Trading – $40
Hand made mixed media 3″ carded figure
Signed and numbered edition of 20
Instagram: @raptrading


Trooper of the Month by Slug Industries – $75
Hand cast and painted 3.75″ scale resin figure on hand cast card back"
Signed and numbered edition of 13
Instagram @slugindustries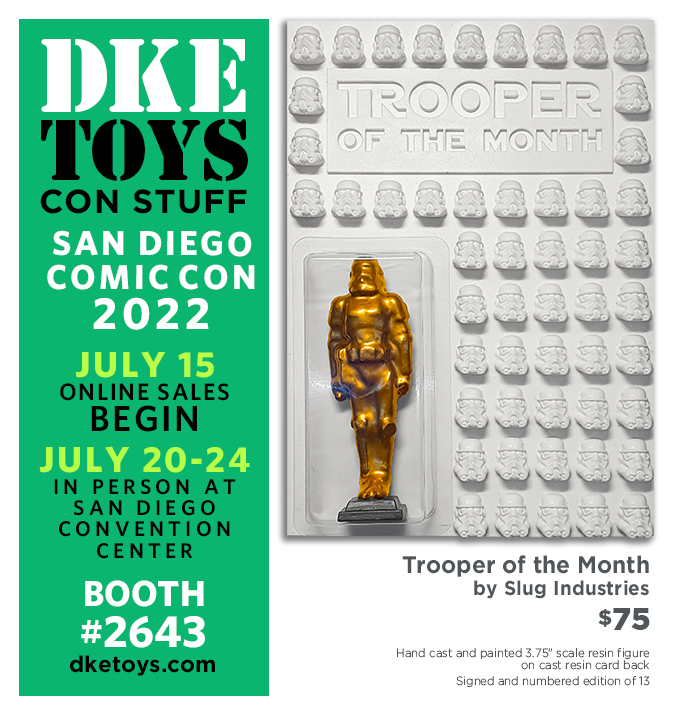 [UPDATE June 29]
Darth Lilith from Mallow Toys – $50
Hand cast and painted 3.75 "scale carded resin figure"
Signed and numbered edition of 20
All proceeds from these toys will be donated by the artist to abortionfunds.org
Instagram: @mallowtoys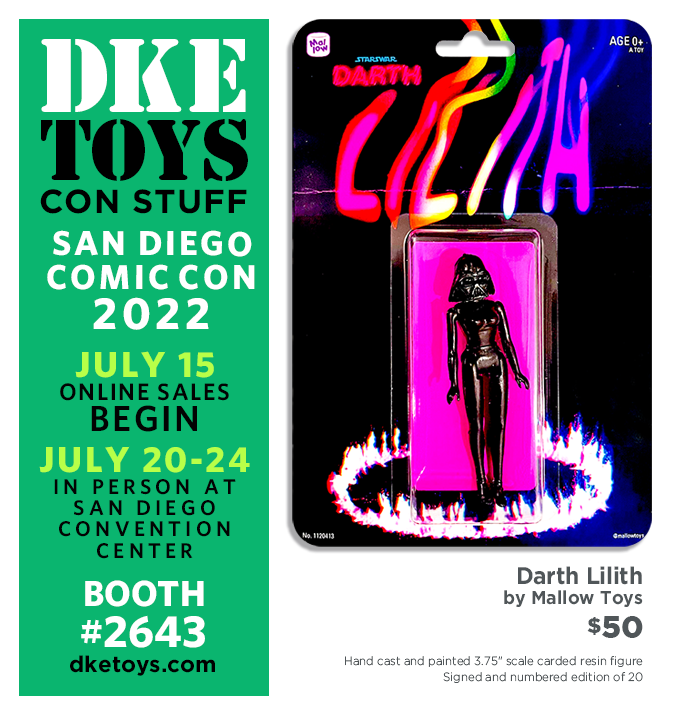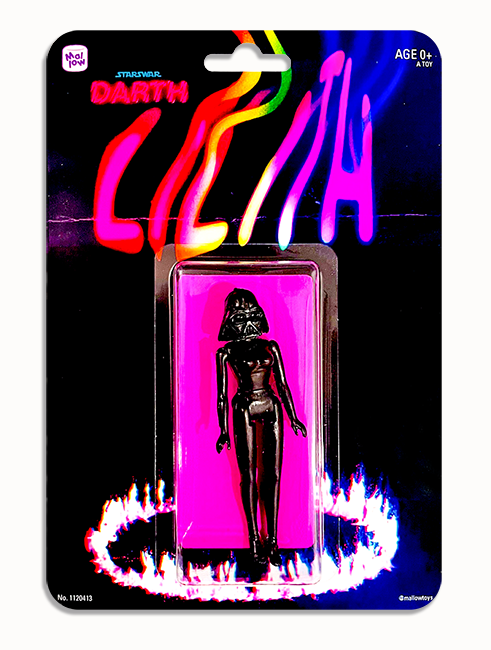 Cinematron from UHOH Toys – $75
Hand Painted 6.5″ Japanese Soft Vinyl Figure Set"
Signed and numbered edition of 20 $75
Instagram: @uhohtoys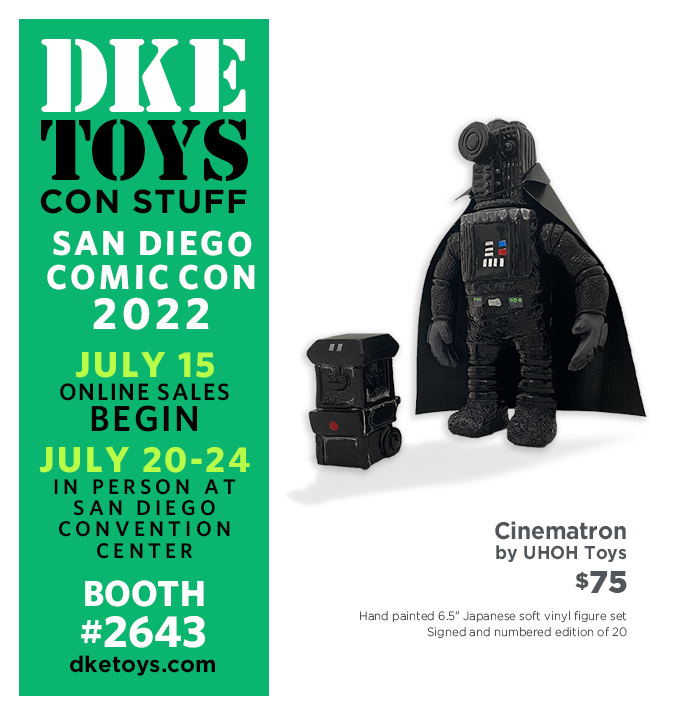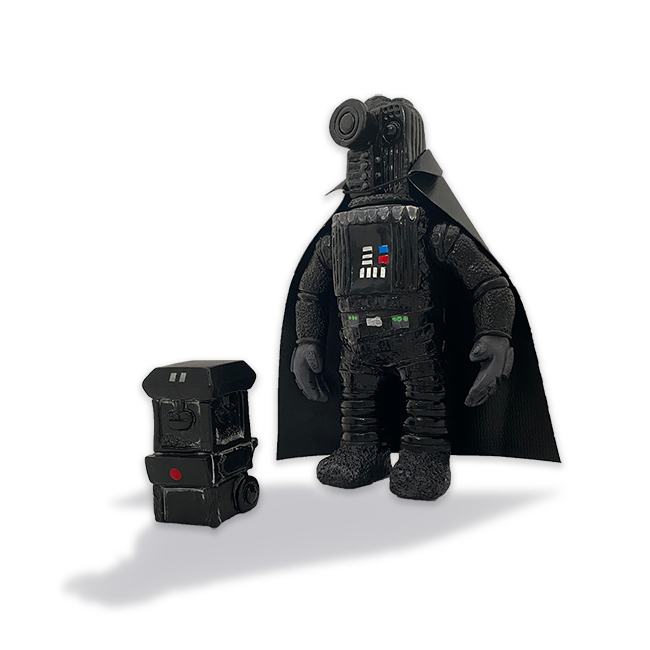 Consume by Dead Greedy x Hal Hefner – $75
Hand cast and painted 3.75 "scale carded resin figure"
Signed and numbered edition of 20
Instagram @deadgreedy @halhefner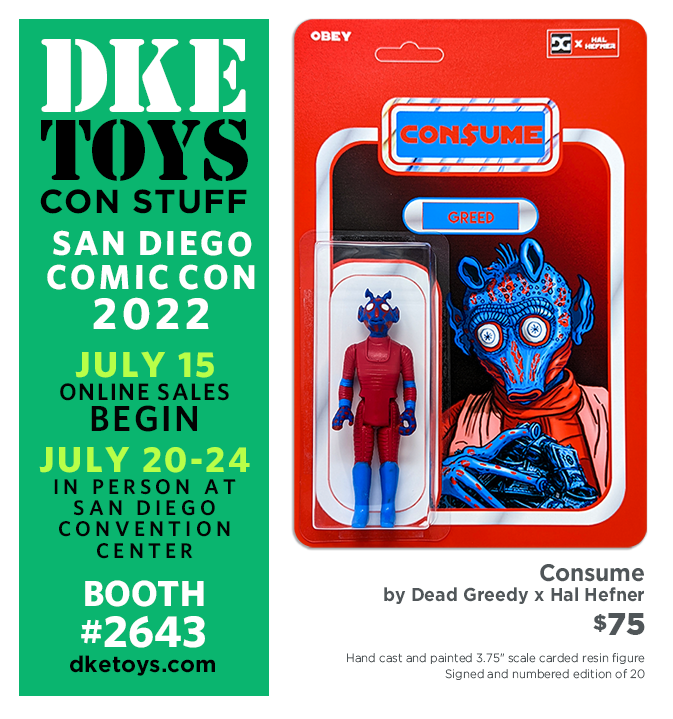 Baron Bloodstar by Retrogimmick – $65
Hand cast and painted 3.75″ scale resin figure"
Signed and numbered edition of 20
Instagram @retrogimmick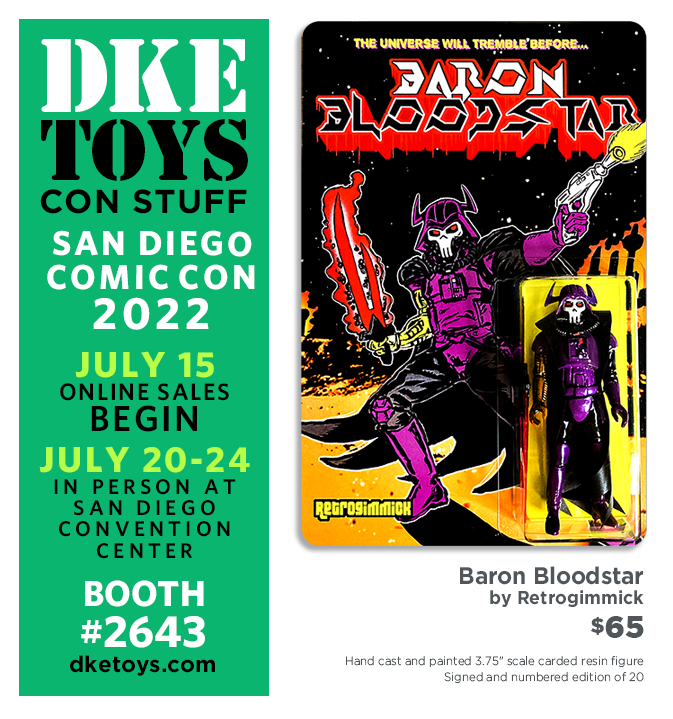 The Seventh Dimensional Swindle: Beast by Scott Wilkowski x Suckadelic – $100
Hand Cast 3.75″ Scale Carded Resin Figure Signed and Numbered Editions of 50 $100″
Instagram: @scottwilkowski @sucklord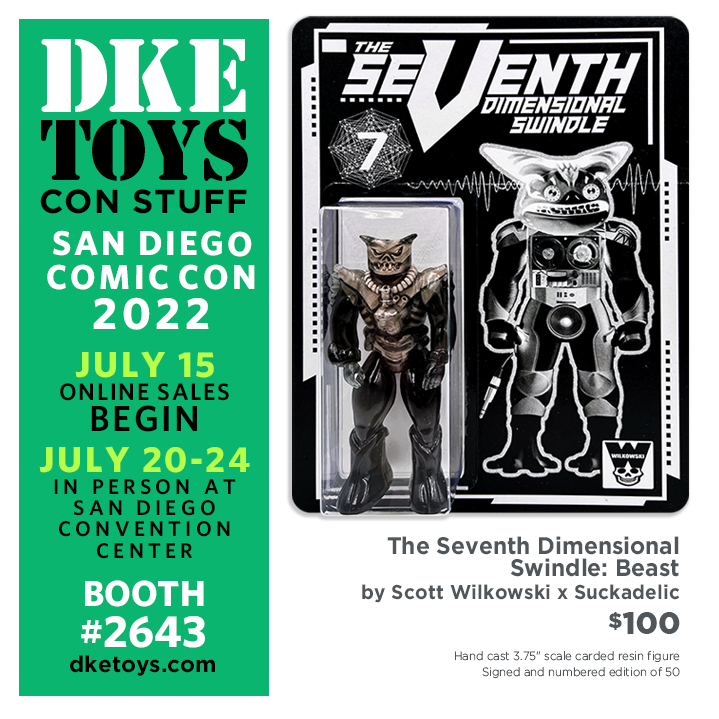 The Great Showdowns by Scott C. – $100
Hand Cast and Painted 3.75″ Scale Carded Resin Figure Set"
Signed and numbered edition of 100
Instagram @scottlava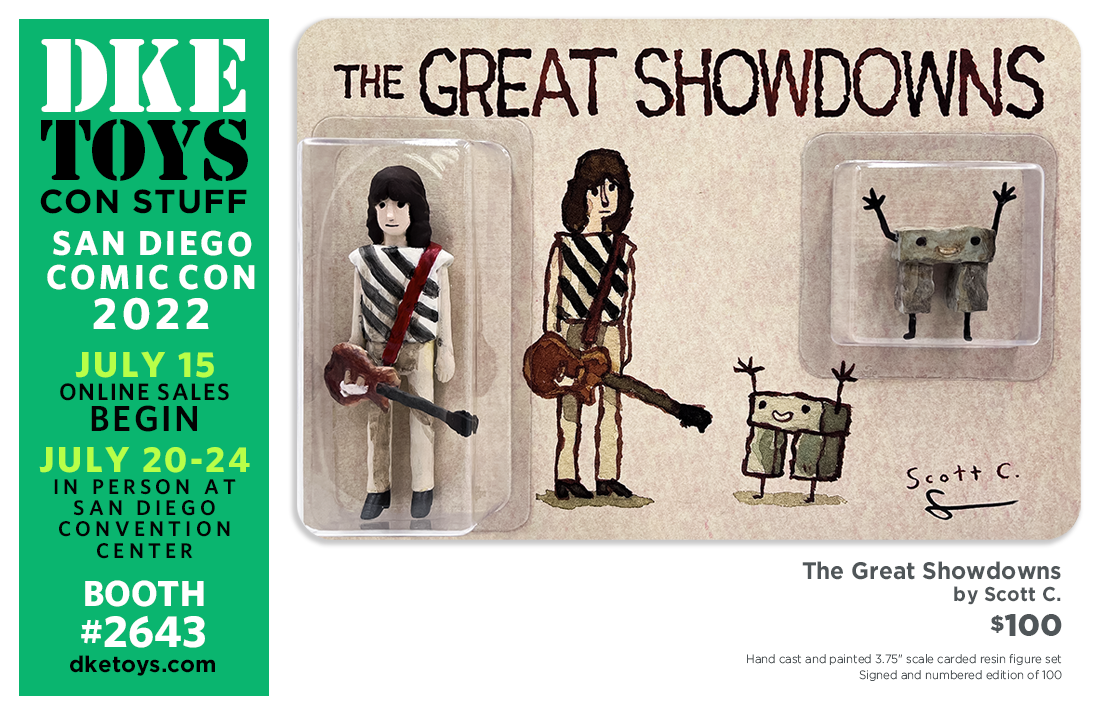 Artoo-Berry by Yoyodyne Toy Division with Tim McDonald – $100
Hand cast and painted 3.75″ carded resin figure in custom grain box.
Comes with accessories.
Signed and numbered edition of 30
Instagram: @yoyodynetoydivision @canadian_artist_tim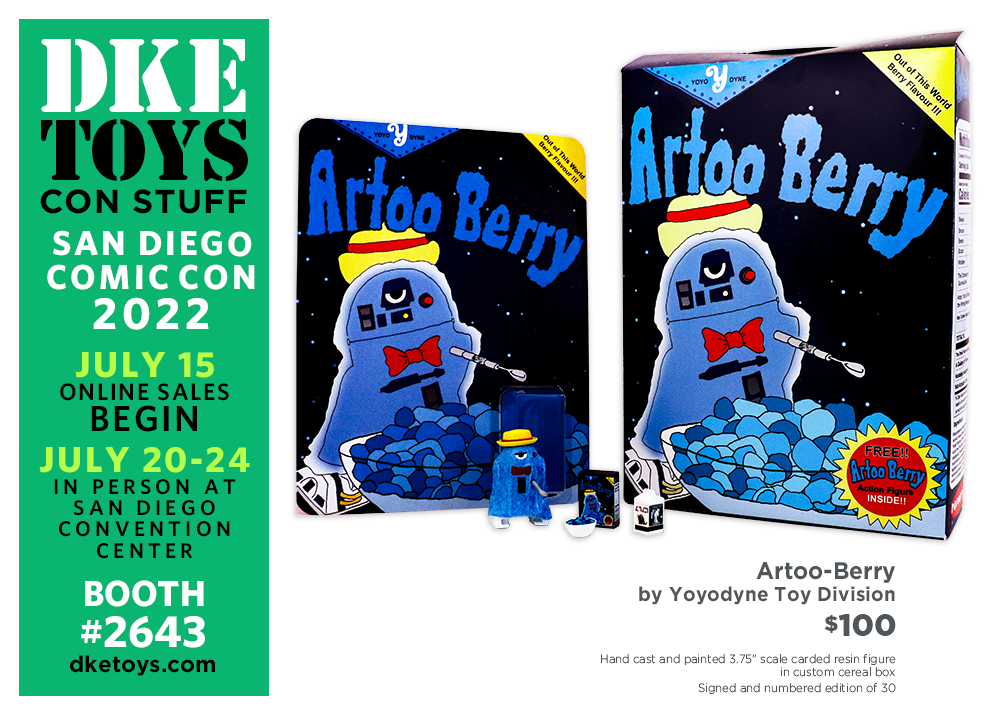 Wampunks by Edwin Salas – $80
Hand-carved and painted 3.75″ figure on hand-painted card back"
Signed and numbered edition of 10
Instagram @edwinsalasart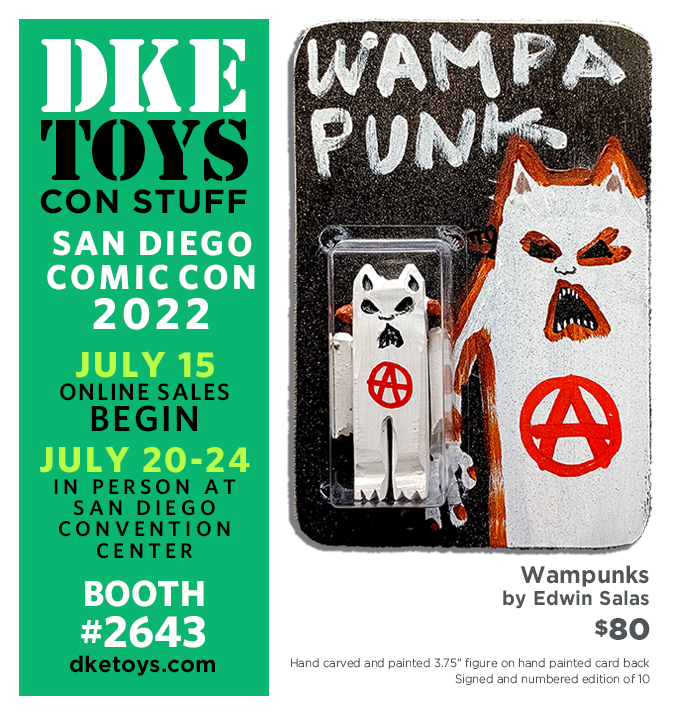 09