The good news was that European politicians have reached an agreement on how to manage migration.
The bad news was that it felt like a very familiar kind of pact – they agreed there was a problem, it was serious and something had to be done.
But the thorny subject of what exactly could be done new – well, that's for another day.
What we did get was a demonstration of collective effort. The Minister of the Interior, Suella Braverman, was in Brussels and stressed the political weight she attaches to the confrontation with migration. So did French Interior Minister Gerald Darmanin, who spoke of the "new cooperation" between the two countries.
But when the official announcement came, there was little sign of a major move forward – no new initiatives or implementations. The most glaring statement was the hope that the UK would reopen negotiations with the European border agency Frontex on how best to work together.
But perhaps you could argue that what we got was a sign of a more thoughtful approach.
The realization that the phenomenon of migration is not tackled through short-term solutions, but through a long-term view of how to tackle some fundamental questions – why do people move across Europe in the first place, how far do people's tentacles go – what is the responsibility of Europe for accepting migrants and how should the borders of the continent be guarded?
"This is a collective problem and it needs a collective solution," Ms Braverman said. "It was a very constructive meeting between partners who ultimately struggle with identical problems of illegal migration."
The question of whether or not cross-Channel migration is illegal remains a thorny issue. The United Nations states that the phrase should not be used, stressing that it cannot be illegal to seek asylum and that the term stigmatizes refugees.
Read more:
Ambassador Albania calls for end of 'discrimination campaign'
'TikTok merchants' who use videos to advertise channel overruns 'should face criminal charges'
Braverman vows to do 'whatever it takes' to tackle the 'small boat problem' in the Channel
Ms Braverman argues that cross-Channel crossings are facilitated by illegal gangs and allow people to enter the UK without permission. She previously called the increase in cross-Channel migration an "invasion".
Ms Braverman told me: "These illegal migration routes have a very strong criminal character. They are largely organized by criminal gangs and there is evidence that people are entering the UK thanks to exploitation and people smugglers – criminal gangs that are very well coordinated and abusive of vulnerable people.
"We are all currently being challenged by an increasing number of people arriving illegally in our respective countries. We have challenges to reduce that, challenges with resources, but we have a common recognition of that challenge."
Migrants diagnosed with diphtheria

When I asked her French counterpart, Mr. Darmanin, about the meeting, he seemed cheerful and positive, albeit with a rather awkward expression. "I want to say to our British friends that we are in the same boat," he said. "We have work to do together in the fight against illegal immigration.
"That means fighting against the smugglers and traffickers, and I think we can celebrate the new partnership with UK Secretary of State Suella Braverman.
"Of course it is difficult, I do not forget that it is difficult for the British people, it is difficult for the French people. A large number of these migrants are in the north of France and the French population has been enduring this for more than 20 year."
In northern France, around Calais and Dunkirk, there are still camps full of people trying to get to the UK. Two weeks ago, while filming in a vast, unpleasant place near the town of Grande-Synthe, we met Rebaz, who had traveled for months from Kurdistan, despite having his right leg amputated below the knee.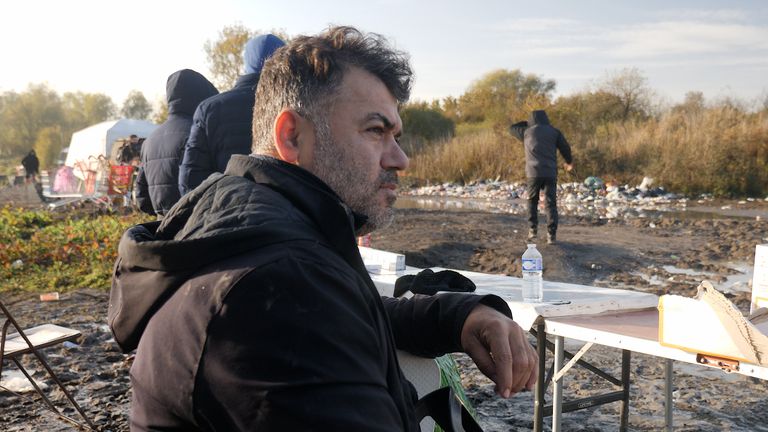 Now Rebaz is in Britain, having crossed the Channel in a small boat. Speaking from a detention center near Heathrow, he said he would advise no one to follow his path.
"I don't think anyone should make this trip," he said. "No one should take this sea route, it is very dangerous. That night our dinghy was out of air and the engine was not working and we nearly drowned."
He expected to be welcome in the UK, not least because he says his injuries were the result of a NATO airstrike. Instead he told us that the welcome had been cold.
"When I arrived in the UK I honestly thought they would treat me really well. But no one here cared about me. I've been here for eight days now and no one cares about me.
"They know that NATO beat me and I lost a leg and my other leg, my back and my head are all injured. But now I don't feel good. They didn't help me at all. They just from the camp to this hotel and that's it. I ask them to help me, take me to a better place and pay some extra attention to me as I am disabled. But they don't care."
It's a miserable testament, but migration is often a miserable, traumatic experience. European leaders seem to recognize that and understand the magnitude of the problem. But what is still not clear is the shape of their plan to change things.