Eight English football fans have been arrested in Munich ahead of tonight's Three Lions' Nations League game with Germany.
Sky Sports News witnessed a number of arrests in the city Monday night, along with repeated anti-German chants and songs about World War II.
Three people were arrested for making the Nazi salute, while police said another caused an estimated €2,000 in damage after he fired a flare into his hotel room.
Four others were arrested for incidents including insulting police officers and urinating in the street.
British police described the disorder as mainly alcohol-fuelled, antisocial behavior rather than any widespread violence.
The German riot police moved large groups of English supporters from the center of Munich and to the train station around midnight.
Police had been called to a "fight" on Monday that reportedly involved 30-50 England fans, but said it was dispersed by the time armed officers arrived on the scene.
There are fears of further clashes later in the day after some English fans bought tickets in the German-speaking part of the Allianz Arena – the venue for the match.
The arrests come after England manager Gareth Southgate asked fans to behave before the match – admitting that pre-match problems always negatively impact his side.
Read more:
Southgate says threat of racism 'a new layer' in choosing penalty takers
Police seized 880 passports from England fans ahead of the game, which comes on the heels of Saturday's 1-0 defeat in Hungary.
Meanwhile, Robert Mortby, 34, of Southwark, pleaded not guilty to attempting to smuggle a knife aboard a plane bound for Munich.
He appeared before Uxbridge Magistrates' Court today, where he was refused bail, taken into custody and ordered to appear before Isleworth Crown Court on 5 July.
Mortby was arrested Monday at Heathrow Airport after a security search found a knife in his hand luggage.
His lawyer claimed in court that he was unaware of the knife because he did not pack his own bag.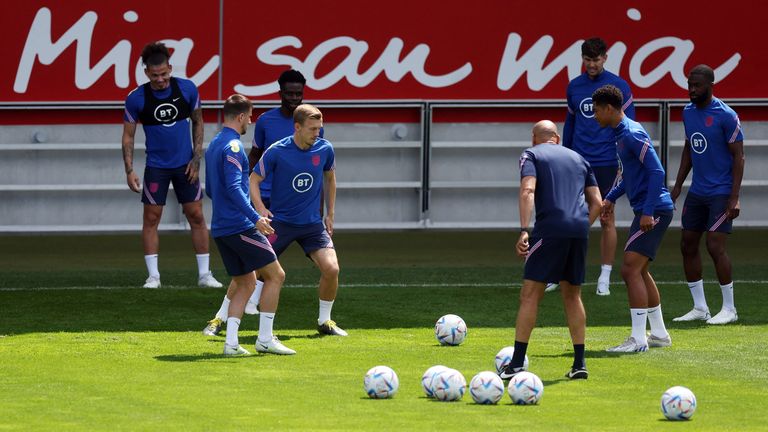 England have been allocated 3,466 tickets for the Allianz Arena, but some supporters are expected to travel without tickets.
As of September 2019, there has been no full allotment for England to an away game and 1122 ban orders are in place.
When asked whether it was important for English fans to behave at a big occasion in Germany, Southgate replied: "Yes, it is.
"I think we know, because of the scenery the moment the spotlight comes on, so we all want to talk about a great night and talk about good football and a stunning atmosphere.
"We have no control over that. We can only ask that our supporters provide that."
A Munich police spokesman said officers can only prevent England fans from going to the "home" if there was an expectation they would cause trouble.
He said 700 agents had been deployed since Saturday to handle the influx of English fans into the city, significantly more than would work for a Bayern Munich football match.