Article content
Edmonton city councilors will meet Monday to discuss the future of Hangar 14, home to the Alberta Aviation Museum, as a new report encourages sales of the historic property.
Article content
The 84,000 square meter building stands on the site of the former city center airport and was used as a training facility during World War II.
But the 80 year old building is showing its age. A city government report says a minimum of $41 million in renovations is needed within five years to avoid "critical asset failures."
The report warns that renovation costs are likely to rise well above the original price tag and calls on the museum to find a new home.
"The rehabilitation of Hangar 14 poses significant cost risks, exacerbated by the need to align rehabilitation with both its historic designations and climate resilience policies," the report reads.
"The most appropriate option is to support the current operator in finding and disposing of an alternative location."
Article content
The expected increase in costs is partly caused by the 'almost certain' discovery of hazardous substances in the building.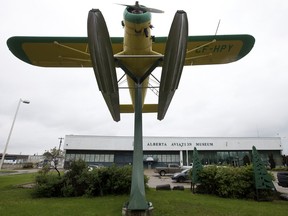 The report says that adding renovation costs to the city's 2023-2026 budget cycle would require delaying the rehabilitation of 19 other facilities, including police stations, arenas, recreation centers and transit stations.
"City-led rehabilitation is not being considered in Hangar 14," the report reads, suggesting the sale of the hangar could generate property taxes for the city treasury.
Hangar 14 was designated a historical resource by the county in 2000 and by the city in 2004.
It has been home to the Alberta Aviation Museum for 31 years. The museum is leasing the facility from the city, and the last deal signed in 2018 will expire in 2028, although either party can terminate the lease with six months' notice.
Article content
Curator Ryan Lee told a council committee that the museum is a small institution that offers an affordable historical experience of Edmonton's past.
"We're a very, very frugal organization with a very low budget," Lee said.
"We cannot operate without a major partnership with the city. If we don't have a house, it will be very bad."
Lee emphasized the cost and difficulty of packing and removing many of the artifacts. He said it would take a chainsaw to take apart a World War II Mosquito bomber, one of the few left worldwide.
The museum estimates it attracted 22,000 visitors last year, including 1,200 schoolchildren, although COVID-19 restrictions may have impacted that number.
Mayor Amarjeet Sohi called the museum "very important" to Edmonton, adding that the city should work together to find workable financial options.
"It's important to find out (its) viability."
Twitter @ByMatthewBlack