"When people leave is the most dangerous time."
Article content
Women who are victims of intimate partner violence in Renfrew County are often isolated from family ties, while there is a shortage of safe and affordable housing, primary care physicians and childcare facilities, no public transportation and many addictions, a judicial inquiry into the murders of three women in 2015 found. Tuesday.
Article content
"These are some of the reasons that make it difficult for a woman to leave," Lisa Oegema, the founder of Renfrew County Victim Services, told the investigation into the deaths of Carol Culleton, Anastasia Kuzyk and Nathalie Warmerdam.
The three women died at the hands of Basil Borutski, a man known for violating parole and previously convicted of domestic violence against Kuzyk and Warmerdam.
The research focuses on the problems surrounding intimate partner violence in a national context. Oegema was one of four experts on a panel who gave the inquest an overview of laws and previous recommendations, as well as the changing landscape for victims and the agencies that help them.
Article content
Battered women in Renfrew County often stay because they have nowhere to go, Oegema says.
While Victim Services handles referrals from people who have experienced trauma, about 72 percent of new clients deal with intimate partner violence, she said. Since 2015, when the three women were murdered, client referrals have increased by 33 percent. Services are chronically underfunded and nonprofits see high employee turnover.
According to media reports, there have been 111 intimate partner homicides in Ontario since the Culleton, Kuzyk and Warmerdam murders, said Marlene Ham, executive director of the Ontario Association of Interval and Transition Houses, who also sat on the panel.
It has gotten worse since the start of the pandemic. After the March 2020 COVID-19 lockdown, femicides fell but rose as the county reopened, perhaps because the victims left their homes, Ham said.
Article content
"When people leave is the most dangerous time."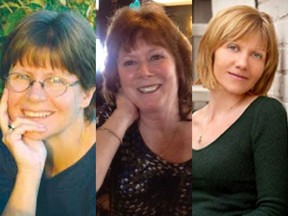 Looking back, hundreds of recommendations have been made regarding investigations and government investigations, but many have not been implemented, the study said. "And when they're implemented, there's no way to evaluate how they've brought about change," Ham said.
One of the recommendations that Ham would like the investigation jurors to see is community-based programs for abusers to address relationships and accountability outside the criminal justice system.
Attorney Pamela Cross, an expert on violence against women and the law, gave the inquest a brief history of the laws applicable to women's rights and protections.
Cross points out that all solutions must account for unintended negative consequences. For example, after the police were obliged to report intimate partner violence, women were also often charged, sometimes for defending themselves.
Article content
Cross urged the jury to consider a few recommendations, including criminalizing compulsive monitoring of a victim and urging the provincial government to introduce a "Interpersonal Violence Disclosure Protocol."
Also known as Clare's law, it is already in effect in three provinces: Saskatchewan, Alberta, and Newfoundland and Labrador. It is a system that allows a person who is concerned about a new partner to request background information about the person from the police. In some cases, the request may be made by an affected family member or service provider. Each jurisdiction has created its own version of the law, Cross said.
"Obviously not everyone is going to use it. Often there are early signs of abuse that are very subtle and the victim doesn't even realize what is happening until they are well into the relationship. But for some it would be a useful tool."
Article content
Cross suggests that a protocol should include a review of family court records. If the police find information that they believe is relevant to the safety of the person investigating, they provide that information to the person, be it domestic violence calls, charges or convictions.
"Only 25 percent of women report intimate partner violence to the police. So we miss a lot if we don't also look at the family court', says Cross.
She has conducted a series of public consultations in Renfrew County. She will report on her findings on Wednesday, the third day of an investigation expected to last three weeks.
Psychologist Dr. Peter Jaffe, the academic director of the Center for Research on Violence Against Women and Children at Western University, will also appear to suggest ideas for change.