Doctor Strange in the Multiverse of Madness concept artist Aaron Black shares production artwork with material not used in the final film.
New Doctor Strange in the multiverse of madness concept art has just been released depicting War World and other universes that were dropped from the finished film.
The previously unseen artwork comes from concept artist Aaron Black's ArtStation portfolio. It contains several ideas that were developed during pre-production on the Doctor Strange sequel, including a world where armies from different points in history go head-to-head. Early versions of the Master of the Mystic Arts' ghost cloak also appear, as do illustrations of what appears to be a twisted version of the Sanctum Sanctorum. Black does not state whether any of these concepts were developed before Scott Derrickson stepped down as director, but the inclusion of a figure on horseback similar to Nightmare in several pieces suggests that this may indeed be the case.
Related: Doctor Strange Star says the MCU makes it hard to capture emotional moments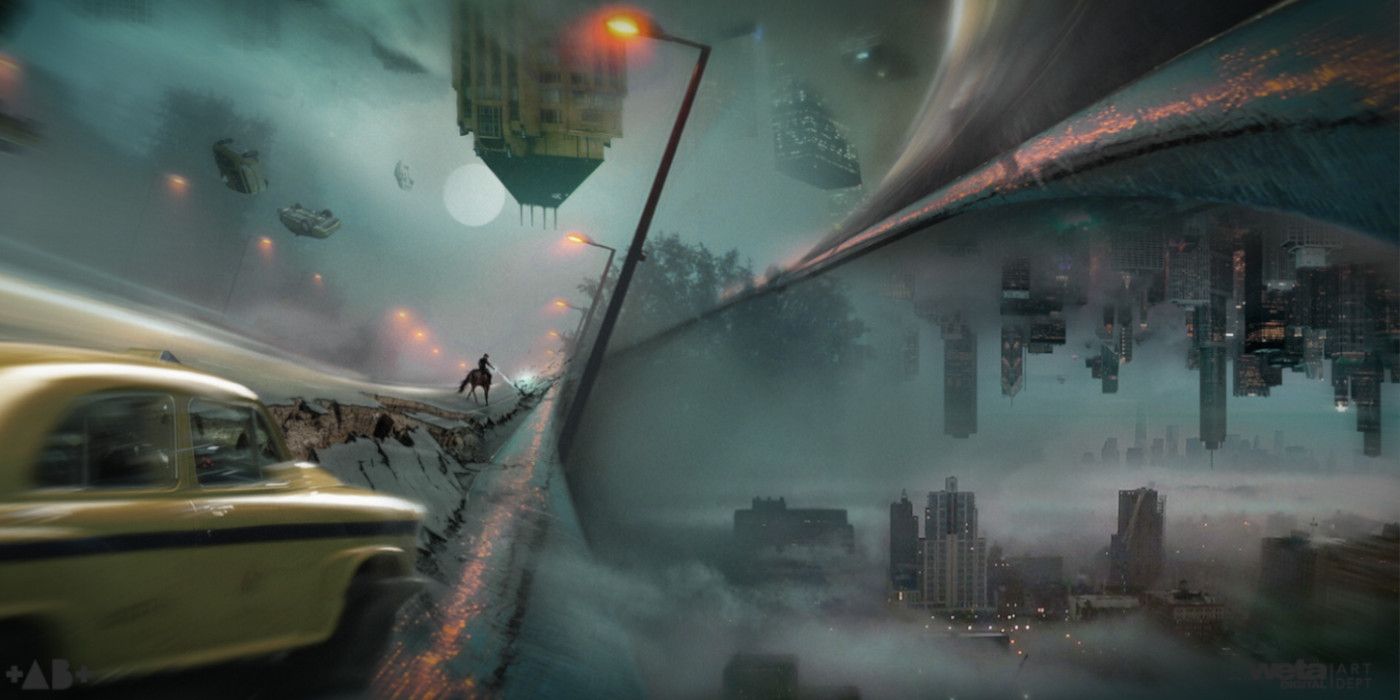 Derrickson intended to use Nightmare as the Doctor Strange in the multiverse of madnessprimary antagonist prior to exiting the production. Concept artwork featuring the demonic supervillain surfaced online in August 2022, depicting a confrontation between him and Doctor Strange outside the lake house where Strange's sister died as a child. Nightmare was eventually replaced by Scarlet Witch as the Doctor Strange main villain of the sequel when director Sam Raimi and screenwriter Michael Waldron took control of the project.
The abandoned heroes and villains of Doctor Strange 2
Raimi and Waldron also waived other elements of Derrickson's vision for the film, including at least multiversal variants of Stephen Strange himself. Concept artist Darrell J. Warner previously shared artwork of this character online. Nicknamed "Marvelous Melvyn", he was apparently a street magician who dealt in classic card tricks and illusions. Marvelous Melvyn also donned a decidedly different outfit from his mainstream Marvel Cinematic Universe counterpart, rocking a fez and red-and-gold robes.
Related: The MCU's most recent projects highlight Phase 4's greatest strength
However, it was not just Derrickson's ideas that were abandoned. Raimi also abandoned some of his own plans Doctor Strange in the multiverse of madness. Notably, a scene revealing Karl Mordo's gruesome ultimate fate was cut late in the production cycle of the MCU blockbuster. Artist Jeremy Simser has since posted storyboards of the scene on Instagram, which shows the Scarlet Witch (Elizabeth Olsen) conjuring the severed head of Mordo (Chiwetel Ejiofor) out of nowhere. Simser notes in his post that since this moment wasn't included in the movie itself, fans shouldn't necessarily consider it part of the MCU canon.
Doctor Strange in the multiverse of madness now streaming on Disney+.
Source: Artstation