Reviews and recommendations are unbiased and products are selected independently. Postmedia may earn an affiliate commission for purchases made through links on this page.
Article content
There was a time when gelato was an uncommon sight in Calgary — finding a cup of nocciola or stracciatella used to require a trip to Italy (or at least Vancouver). Calgarians' quest for gelato was made much easier in 2003 when young entrepreneur Dino Falvo opened Amato Gelato on Kensington Road to sell his family's Mario Gelato brand, which he had already quietly supplied to local restaurants and specialty shops.
Article content
While Kensington Amato has been going strong ever since, Falvo has always dreamed of owning a traditional Italian-style dessert bar that went above and beyond what he does in his gelateria. When a spot opened up on the corner of 5th Street and 17th Avenue SW in the food vendor-heavy real estate development known as The Fifth, Falvo knew it was a good fit with the European concept he had in mind. The store, also known as Amato, opened its doors last February but celebrated its official opening at the end of May.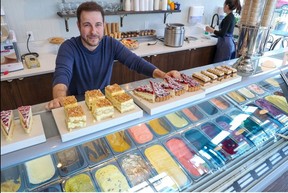 While the new Amato still has a gelato counter, it's smaller and less of a focus. Falvo used the help of interior designer Michelle Levesque to create a classic decor that looks like it was pulled straight from Italy, with rich wood panelling, old-fashioned glass bakery and gelato cases, lavish lamps and hanging plants. Falvo's vision included a 65-seat patio that overlooks one of the busiest corners of the city.
Article content
Running a popular business for 20 years has given Falvo a great sense of what works and knew he had to fill a gap in the Calgary market. Amato's concept will be instantly recognizable to anyone who has spent a lot of time in Europe, but this style of eatery was not easy to find locally. He also knew that the Beltline location needed something that made sense all day long. The new location will open to the relaxed espresso crowd at 9am, serve panini, pizza and other lunch items in the afternoon, then transition into an aperitivo hour with Italian cocktails and free snacks from 2:30pm to 6pm, closing well after dinner so Beltline revelers can grab a piece of cake and a nightcap or affogato before heading home.
Article content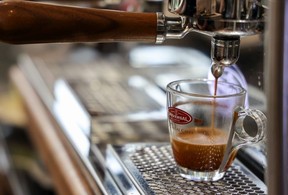 "This isn't a coffee bar, it's an Italian dessert bar. When you say 'bar' people think it's something else, but in Italy 'bar' doesn't just mean a drinking place," Falvo says. "The city has always had Italian restaurants, but no one does a real Italian coffee shop outside of a grocery store environment. There's never been one here on the 17th."
Aside from the gelato, which comes from Vancouver-based Mario's, Falvo's rule of thumb for what is sold at Amato is that it should be Italian. The wine and beer are Italian. The pastries are imported from Milan. The coffee is our own roasted coffee made especially for Falvo in Italy. The cocktails are all of Italian origin, with three types of negroni, grappa sours and a tiramisu martini. He also tries to keep the old-fashioned Italian prices, with most desserts under $5, cocktails for $12 and an espresso for a single euro (or $1.50 Canadian).
Article content
The new Amato Gelato location is located at 602 17th Ave. SW and can be reached at amatogelatoalberta.com.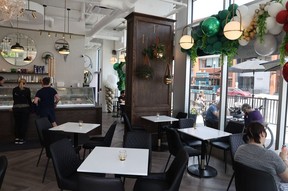 †
Amato is not the only growing supplier of frozen treats. Abbey's Creations, which has been wowing fans with its unique flavors from its Montgomery location for two years now, is in full swing. The company opened a new store on McCall Way early this year, a third location in Pacific Place Mall in May, a fourth in Cochrane just over a week ago, and a fifth will open later this week in Inglewood. The ice cream is top quality, but it's the flavors that stand out, all curated by owner Abbey Claro, who is originally from the Philippines. Varieties include brown sugar boba, salted egg, durian, and a surprisingly delicious ube queso, along with more standard flavors. For more information and addresses for all of these new locations, visit abbeyscreations.com.
Article content
Not quite like new, but worth checking out is local ice cream makers Milk, which opened last summer at 2614 4th St. NW. Run by two cousins ​​whose parents are from Vietnam, Milk also specializes in Asian-inspired flavors like Hong Kong milk tea, pandan, and "milk rabbit," a riff on Chinese White Rabbit milk candies, as well as nostalgic flavors like Dunkaroo. A full list is available at milkicecreamshop.com.
†
In other restaurant news, there is a new local initiative called The Hospitality Healing Project that aims to help food industry professionals in Calgary who suffer from burnout and other work-related mental health conditions. Started by a group of industry alumni and SABI Mind, a psychedelic therapy company, the program offers free consultations, peer support and other resources, as well as subsidized counseling and therapy sessions. For more information or access to services, visit hospitalityhealingproject.com.
Elizabeth Chorney-Booth can be reached at elizabooth@gmail.com. Follow her on Twitter at @elizaboothy or Instagram at @elizabooth