"These new challenges during the pandemic make this telethon all the more urgent. The need is greater."
Article content
Jamie and Tim Eberts joyfully celebrate their daughter Olivia's achievements. But a recent performance left them equally speechless.
Article content
The curly-haired five-year-old came home from kindergarten at CHEO and told her parents something she had learned that day.
"The kid who might never be able to talk came home and said, 'My favorite dinosaur is a pterodactyl,'" her mother, Jamie, told me. "We both just stopped and said, 'Excuse me? Did you really just say that?' †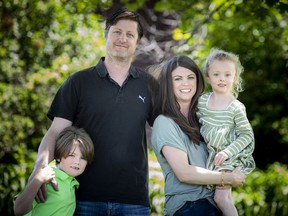 Born about a pound in weight, Olivia Eberts has faced a number of challenges during her life, including heart surgery, chronic lung disease, a feeding tube, and anxiety. Her twin brother, Liam, survived only a few weeks of life.
Despite her challenges, Olivia is reaching new milestones, especially when it comes to communication, social development and having the opportunity to be a child through development and rehabilitation programs at CHEO, her parents say. CHEO's complex care program — aimed at coordinating and connecting care for children like Olivia — has been a "game changer," Tim said.
Article content
The Eberts family, who also have a son, Jacob, 6, belonged to six CHEO families who took part in the Children's Hospital's annual telethon Sunday.
A fundraiser totaling $11,818,771, representing all donations from the past year, was announced Sunday night during the telethon.
"We feel so lucky to live in a place with a hospital like CHEO. Not everyone is that lucky," said Tim.
"Intellectually we understood the value of CHEO to the community, but we really underestimated how important it was until we completely depended on it."
He said he has spoken to many people who have also shared stories of how they have relied on the hospital.
Steve Read, acting CEO of CHEO Foundation, said the telethon comes at a time when the needs of children and families who rely on CHEO are greater than ever.
Article content
"The pandemic is very difficult for everyone, especially for the children."
In addition to delayed surgeries and delayed treatments, new problems have emerged since the pandemic, especially mental health problems for children – including an increase in cases of depression, anxiety and eating disorders.
"These new challenges during the pandemic make this telethon all the more urgent," he said. "The need is greater."
Allowing families to tell their stories as part of the telethon underscores the importance of hospital programs to children's lives, he said. The foundation supports the hospital by financing equipment, a special children's life team and research.
In addition to the challenges exacerbated by the pandemic, the hospital is facing record volumes and has one of the busiest pediatric emergency departments in the province.
"We definitely feel the telethon comes at just the right time for the community to show their support."
The CHEO Telethon ran online from May 23. It aired on CTV Sunday afternoon and early evening.