'The vast majority of Canadians of Vietnamese descent are boat refugees or children of boat refugees'
Article content
A new park and monument in Calgary honors the people who lost their lives trying to escape from Vietnam after the fall of Saigon and those who successfully rebuilt their lives in Canada.
Article content
Hundreds of Vietnamese Calgarians, as well as community and government representatives, attended a ceremony Friday that marked the official unveiling of Journey to Freedom Park at the end of International Avenue in Forest Lawn. The memorial is dedicated to Canadians and Calgarians who opened their doors to Vietnamese refugees during the migrant crisis that followed the end of the Vietnam War.
Often referred to as the "Vietnamese Boat People", approximately 840,000 people fled the country in the years after North Vietnamese captured the South Vietnamese capital of Saigon in 1975, an event that marked the end of the Vietnam War and the reunification of the country. as the Socialist Republic of Vietnam. According to United Nations estimates, about 250,000 people died during the crisis, which peaked in the late 1970s and continued into the early 1990s.
Article content
"Thousands and thousands of them died at sea; (they) were kidnapped or killed," said Anne-Marie Pham, a spokeswoman for the Calgary Vietnamese Canadian Association. "Many ended up in refugee camps in Indonesia, the Philippines, Malaysia, Hong Kong – sometimes waiting years for a country to welcome them."
Countries around the world took in Vietnamese refugees, with about 60,000 coming to Canada. At the 2016 census, Canada had more than 240,000 citizens of Vietnamese descent, more than 20,000 of them in Calgary.
"The vast majority of Canadians of Vietnamese descent are actually boat people or the children of boat people," Pham said. "That's why I think there is so much energy, momentum and gratitude in the Vietnamese community in Canada for the new opportunities for them to earn a living and build a new life in Canada."
Article content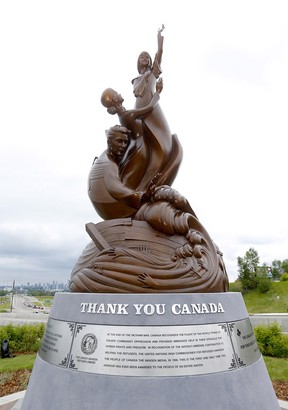 The United Nations High Commissioner for Refugees recognized Canadians in 1986 for their efforts to help refugees, and honored the "people of Canada" as a whole with the Nansen Refugee Award, the first time the award has been presented to an entire nation. The monument also pays tribute to that designation.
Prime Minister Jason Kenney attended the ceremony on Friday. He said it was a "touching" moment for him, having previously worked to pass both state and federal legislation to ratify Journey to Freedom Day, which occurs annually on April 30.
"Those who fled communist oppression have made a huge contribution to Canada," Kenney tweeted.
The Calgary Vietnamese Canada Association has raised $1.2 million to build the park, slightly short of its goal of $1.5 million due to fundraising complications caused by the COVID-19 pandemic. Pham said at the event Friday that Kenney promised the government would deposit $300,000 to make up the difference.