The Brumbies are the only Australian side left in the semi-finals of Super Rugby Pacific this weekend, and they believe a combination of recent achievements – including their 35-25 quarter-final win over the Hurricanes in Canberra – will serve them well. will come.
They will face the Blues in Auckland on Saturday, after knocking out the Highlanders 35-6 at Eden Park.
After finishing the regular season first, the Blues will retain hosting rights to the finals as long as they keep winning.
Meanwhile, the second-seeded Crusaders will host the third-seeded Chiefs in Christchurch on Friday night, after the Crusaders beat the Queensland Reds to progress with a 37-15 win, and the Chiefs blew the NSW Waratahs away in a dominant first half , going to win 39-15.
Loading
The top four teams on the table all went on to win until the second week of the final, and defense was the common denominator.
As a sign of how the competition tightened in the closing stages, the average number of tries per game went from more than eight tries in round 14 to exactly seven tries per game in round 15, then again to six tries per game in the quarter-final. last weekend.
The Brumbies are now flying the flag for Australia, something they can do with confidence after taking full control of how the game was played throughout the second half within seconds of beating the Blues in Canberra in Round 14.
They repeated this exact pattern on Saturday, regaining control of both the game and the scoreboard from the Hurricanes after halftime and winning well.
And while they welcome the damaging backrower Rob Valetini – one of the most form players in the league before he injured a hamstring a month ago – Mother Nature might have given them a timely advantage yet.
Loading
The weather in the nation's capital leading up to the Hurricanes game has been cold and wet all past week and continues this week. And while the sun is shining in Auckland for the first few days of the week, next Friday and the weekend, the forecast for dropping temperatures and puffer jackets is at the ready.
As for being ready for the conditions and preparing accordingly, the Brumbies couldn't be more acclimatized than they will be at kick-off on Saturday night.
"It probably won't be that cold there, but it will be windy and a bit wet. We didn't mind training in the same conditions last week, and we trained and played well, so I think it's good preparation for us," said Brumbies senior assistant coach Laurie Fisher this week in Canberra.
The Brumbies have essentially played finals football for the past month, with the consistent pattern of low possession and heavy defensive effort required in each of their last four games.
That has worked beautifully to sharpen their focus and get them ready for the knockout stage of the competition; defense wins the big games, as the old saying goes," Fisher said.
"They're not bigger than us.
"We have a big forward pack, but we have to be prepared. We just have to play a game where we can win collisions.
"So maybe take a little skill out of it and make sure you focus more on carrying height, carrying capacity, closer support, maybe try to get a two out of one or three out of two in contact. That sort of thing is less about the catch- pass skill and more on the skill of connecting and dominating."
"You don't beat a New Zealand side if you don't match them at worst in the clashes."
Beating a New Zealand team in a final over the ditch is something the Brumbies have never done before.
Most recently, they lost a semifinal to the Hurricanes in Wellington in 2015, and also dropped the 2013 final to the Chiefs in Hamilton. They have also lost finals in Christchurch and Auckland.
Plus, they haven't won in Eden Park in a long time.
"I don't think many of us know what it takes to win there, although I have to say I was part of the coaching staff when we beat the Blues there on a cold, rainy night in 2013." said Visser.
"I think a young Nic White scored a try that night. Maybe there's a good omen there.'
There are only a handful of senior Brumbies left from that game, while James Slipper won at Eden Park in 2012 with the Reds.
"There are players like me who have been around for a while, [and] we don't have the best track record there," Slipper said this week.
"It's a great stadium with great fans, so they're excited."
Valetini throws himself in contact, Ikitau 'shattered' to miss
Rob Valetini was both "disappointed and excited" Brumbies coach Dan McKellar on the training track last week, such was his complete lack of moderation in contact, where returning hamstrings would typically be given more restraint.
He is one of two changes made by the Brumbies for the semi-final, with midfielder Ollie Sapsford replacing Len Ikitau, who failed to beat his red card for much contact in last weekend's game.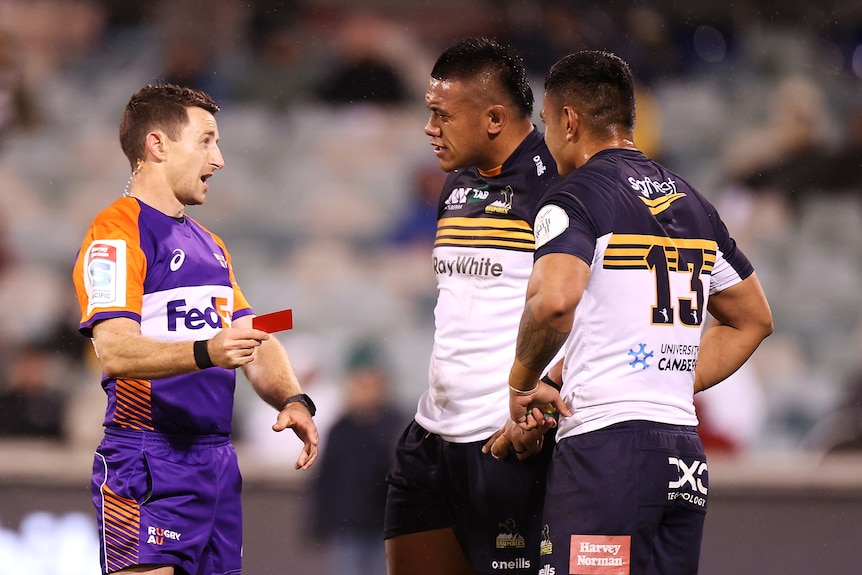 His three-week suspension means his Super Rugby season is over, but he is good for Wallabies' three-test series against England next month.
"Len is heartbroken. Really disappointed," said McKellar after calling his team before the Brumbies flew to Auckland on Wednesday.
"We definitely thought there were mitigating factors, [but] the judicial panel does not. Sadly he will miss the rest of our season but I thought Ollie Sapsford was really solid last week. Big body, physical, nice and direct. I think he's ready to go."
The Brumbies themselves feel that they are ready to go. They've taken a lot out of the Blues who needed a drop goal after the full-time siren in Canberra a few weeks ago, but their focus is now as sharp as it is simple.
"You play two good rounds of footy and you win a championship," says McKellar.
"And that's a bond and a bond with this group for the rest of our lives."