Reviews and recommendations are unbiased and products are selected independently. Postmedia may earn an affiliate commission for purchases made through links on this page.
Article content
Since 1993, the Distinguished Business Leader Award has been presented to prominent business leaders in Calgary. The prestigious award, co-presented by the Haskayne School of Business and the Calgary Chamber of Commerce, honors individuals whose vision and ethical leadership, sound business acumen and commitment to the community have marked them as role models for generations of business leaders. This year's awards gala, held on June 23 at the Hyatt Regency, honored the 29th recipient, Andrea Robertson and the 30th receiver, Wayne Chiu.
Article content
Robertson, president and CEO of STARS, has been with the organization for 11 years. Prior to joining STARS, Robertson held leadership roles at Alberta Health Services, Foothills Medical Center and Alberta Children's Hospital. "Trying to always do the right thing is very difficult unless you are both values ​​and purpose driven," says the experienced manager.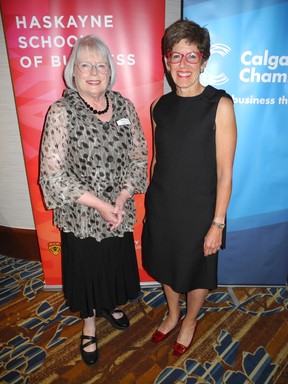 Wayne Chiu is the founder and CEO of the Trico Group and the founder of the Trico Foundation. That Chiu is the 30th award winner is a fluke, as this is the same year he celebrates the 30th anniversary of Trico Homes. Chiu and his family have generously served numerous organizations, including the Roderick H. Mah Center for Continuous Learning; SAIT's trade and technology complex; the Chiu Family/AstraZeneca Chair of the U of C in Cardiovascular Health Promotion and Disease Prevention; the Chiu School of Business at Bow Valley College; and the Trico Foundation Social Entrepreneurship Center at the Haskayne School of Business. "For me, ethical leaders need to be compassionate, empathetic and caring. These three characteristics define what ethical leadership means to me," he says.
Article content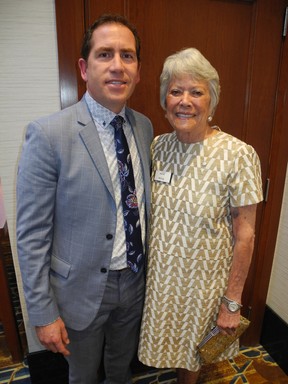 These two outstanding individuals are in the illustrious company of past award winners, including Dr. Chen Fong; Michael Culbert; Guy Turcotte; Leslie O'Donoghue; Sam Kolias; Ron Mannix; Mac Van Weilingen; Alan Norris; Sue Riddell Rose; Rick George; Hal Kvisle; Patrick Daniel; George Brookman; Mike Tims; Harley Hotchkiss; Linda Hohol; Charlie Fisher; Clive Beddoe; John Forzani; David O'Brien; Brian MacNeill; Jim Gray; Bud McCaig; Dick Haskayne; Bob Brawn; Alfred Balsam; David Mitchell; and John Currie.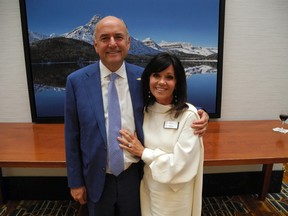 Among the nearly 400 guests in attendance this evening were: Deborah Yedlin, Chancellor at the University of Calgary and President and CEO of the Calgary Chamber of Commerce; Eva Friesen, president and CEO of Calgary Foundation; Jim Dewald, dean of the Haskayne School of Business; Murray Laverty, chairman of the Calgary Foundation; Sharon Carry, YW Calgary executive chair; Calgary Police Commission passes chairman Howie Shikaze and wife Sher Shikaze; Calgary Health Foundation president and CEO Mike Meldrum; community leader and philanthropist Ann McCaig; 2019 Honoré Michael Culbert and his wife Heather Culbert; 1996 Honored Bob Brawn and his wife Carole; U of C Chief Development Officer Andrea Morris; Michael Colborne, chairman and CEO of Pacific Western Group of Companies and his wife Barbara; Karen Perl-Pollard, senior communications strategist, Haskayne School of Business, with colleague Jennifer Moen, director of development; 1997 Honorary Member Dick Haskayne; and Eleanor Chiu, proud wife of Wayne Chiu's guest of honor and recent recipient of a Calgary Influential Women in Business Award.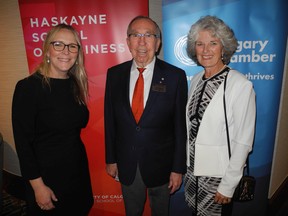 Proceeds from the gala support scholarships awarded annually to Haskayne students that reflect a commitment to ethical leadership. Furthermore, the Calgary Chamber of Commerce partners with the Haskayne School of Business and Awards Gala to support Calgary entrepreneurs through the Emerging Entrepreneur Scholarship.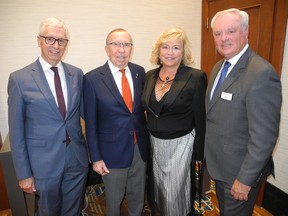 With files from the Haskayne School of Business.