President Joe Biden's visit to Saudi Arabia encouraged the kingdom's leader to escalate his crackdown on dissidents, Saudi activists said..
Lina al-Hathloul and Abdullah Alaoudh, whose relatives are being held in Saudi Arabia, spoke to Newsweek after a Saudi woman studying in Britain was sentenced this week to 34 years in prison for her activity on Twitter.
Salma al-Shehab was initially given a six-year prison sentence after being detained in January 2021, but an appeals court increased it to 34 years, followed by a 34-year travel ban.
Shehab was accused of "helping those who want to cause public unrest and destabilize civil and national security by following their Twitter accounts" and by retweeting their tweets. Shehab may still be able to appeal the case.
Al-Hathloul and Alaoudh were among those who had warned that Biden's visit to Saudi Arabia would encourage the kingdom's de facto leader, Crown Prince Mohammed bin Salman, to escalate crackdowns on dissent.
Al-Hathloul said al-Shehab's harsh sentence clearly shows that the crown prince "feels encouraged, and knows that he can double the repression with impunity".
"Salma al-Shehab's outrageous sentence could be the first of a new pattern," she warned.
Saudi Foreign Minister Adel al-Jubeir, she said, "justified targeting dissidents and affirmed that activism and any form of dissent is considered terrorism," moments after Biden met the crown prince last month.
Al-Hathloul is head of monitoring and communications at London-based Saudi rights group ALQST. Her sister is prominent Saudi human rights activist Loujain al-Hathloul, who has served a prison term and is still subject to a travel ban.
Abdullah Alaouda, director of research for Democracy for the Arab World Now, a non-profit organization founded by journalist Jamal Khashoggi, echoed her sentiments.
After Biden's visit, the Crown Prince was "encouraged to be bolder and rogue as we expected," Alaoudh said. News week.
His father Salman Alodah, a prominent scholar, has been imprisoned in Saudi Arabia since 2017 after he tweeted his wish for reconciliation between the kingdom and Qatar.
Al-Shehab's punishment is the "beginning of a bigger wave and more brutal repression," he said News week. "The responsibility for this wave and victims this time rests with those who have encouraged MBS and given him everything he needed to do so: legitimacy and impunity!"
A White House spokesperson told News week that "exercising freedom of expression should not be criminalized."
"We continue to advocate for human rights defenders at the highest levels of government," the spokesperson added.
"As President Biden said during his visit to Jeddah, respect for human rights and fundamental freedoms is an important principle of our foreign policy. And while there, the president underlined both privately and publicly the United States' belief that respect for and promotion of human rights and fundamental freedoms promotes stability and strengthens national security."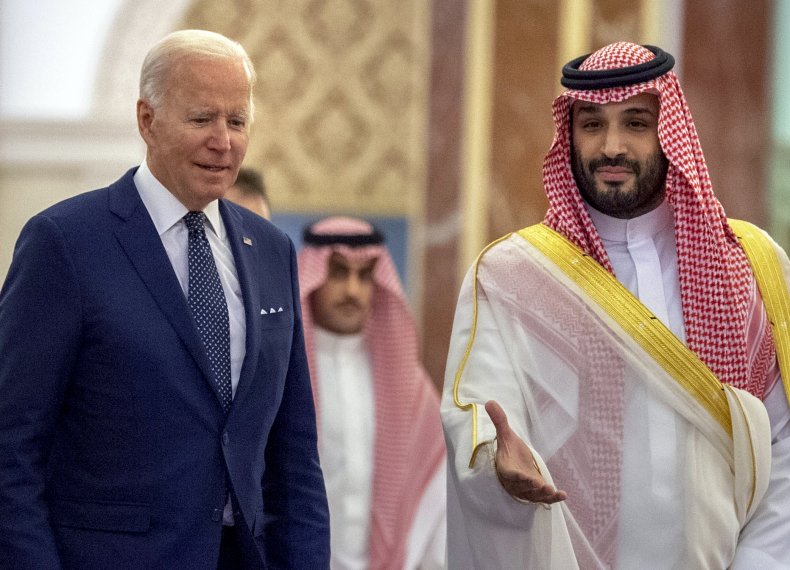 While running for president, Biden had vowed to treat Saudi Arabia as a "pariah" for its human rights abuses. After becoming president, he refused to speak directly to the crown prince and ordered the release of a US intelligence report implicating him in Khashoggi's 2018 assassination.
In a turnaround, Biden said he traveled to the oil-rich kingdom in an effort to "refocus but not break" relations with a long-standing strategic partner as his administration struggled with high oil prices, driven in part by Russia's invasion of Ukraine.
Biden was accused of betraying Khashoggi by traveling to Saudi Arabia, and criticism mounted after he greeted the crown prince with a punch.
He later said he raised the Khashoggi murder at the top of the meeting. "He basically said he wasn't personally responsible for it," Biden told reporters. "I stated that I thought he was."