Prime Minister John Horgan reiterates plea for more federal money as three small hospitals closed emergency rooms over the weekend
Article content
Prime Minister John Horgan said BC's health care system is "faltering" given staff shortages that led to the closure of three emergency rooms over the weekend, but critics say the system is "imploding".
Article content
Emergency departments in Clearwater, Port McNeill and Chetwynd were closed for 12 hours between Friday and Sunday due to lack of staff, forcing patients to travel to hospitals in other communities.
The issue overshadowed a news conference in Burnaby Monday, where Prime Minister John Horgan and Health Secretary Adrian Dix celebrated the groundbreaking redevelopment of Burnaby Hospital. That project has been delayed by a year and is already over budget at $1.4 billion, compared to the $1.3 billion price tag when it was announced in 2019.
BC Liberal leader Kevin Falcon said emergency room closures over the weekend are a symptom of a health care system "imploding."
He said new hospitals being built by the New Democrats "will come empty because there won't be people to actually staff these facilities."
Article content
Dix said 16,000 health workers were sick last week, with the highest numbers in Northern Health and Interior Health, exacerbating the workforce crisis. That's significantly higher than pre-pandemic times, he said, because nurses and doctors don't go to work while sick for fear of being contagious.
Dix said the province has added 30,000 health workers since 2017.
Falcon disputed those numbers, saying BC had 10,084 fewer employees in BC hospitals as of February 2022 compared to July 2017. The numbers come from Statistics Canada's survey of employment, payroll and hours.
The Department of Health said Falcon relies on incomplete numbers that don't reflect changing job classifications.
Article content
Horgan has repeatedly pointed to increased federal funding as key to sustaining health care. Counties and territories have asked Ottawa to increase its share of health care financing from 22 percent to 35 percent, which would mean an increase of $3.9 billion per year for BC.
"We need cash, not just here in BC but across the country, from our federal partner," Horgan told reporters Monday. "The (healthcare) system is vibrant, but the system is faltering and we need to support it."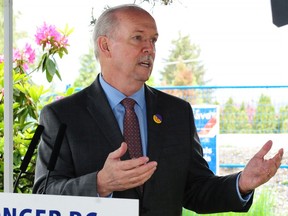 Horgan said he has repeatedly raised the issue with Trudeau, including during the prime minister's visit to BC last week. Horgan, who is also the chairman of the Council of the Federation, called on Trudeau to come to Victoria from July 10-12 for the meeting of prime ministers.
Article content
Horgan said that while he is "optimistic", the Prime Minister is taking the matter seriously: "I don't know if… he and his team understand the importance of getting started. The longer we wait, the harder the challenge becomes."
The emergency department of Dr. Helmcken Memorial Hospital in Clearwater was closed Sunday between 9am and 9pm due to "unforeseen limited staff availability," according to Interior Health. It marks the fifth time the emergency room in Clearwater, a city of 2,300, has been closed in May.
Patients were told to go to the Royal Inland Hospital in Kamloops – 125 kilometers or about an hour and a half away – despite the hospital also struggling with staff shortages, sometimes leaving it with about half of the nurses needed.
Article content
A nurse from the Royal Inland Hospital, who spoke to Postmedia News on condition of anonymity for fear of reprisal, said the repeated closures of Clearwater's emergency department have added further pressure to already burned-out nurses.
She said the situation is "terrible" and could force nurses to quit out of frustration.
"Our emergency department is already very overcapacity and understaffed," she said. "We just feel like we're at a point where something needs to be done, and nothing will soon be done to help our capacity and our workforce challenges. It's only getting worse."
On Vancouver Island, the emergency room in Port McNeill was closed between Friday evening and 12 noon Saturday morning due to what Island Health called an "unexpected temporary nursing shortage."
Article content
Island Health said in a statement: "There is a national shortage of health care providers, affecting all groups of health care providers, including nursing. The effects of this national issue are amplified in rural and smaller programs and locations where the basic workforce is lower."
Staff shortages also led to the emergency department closing at Chetwynd Hospital in northeast BC from Saturday night to Sunday morning.
Fort St. John Mayor Lori Ackerman said she had heard of emergency room doctors and nurses leaving the profession because of the staff shortage. She is calling for an independent audit by Northern Health to address the staffing issues.
BC Green Leader Sonia Furstenau said patients had to wait up to eight hours in emergency rooms that were open this weekend. She said in a statement the government is focusing on cutting ribbons for new hospitals as health workers "gaslight" the alarm over a health care system "showing signs of collapsing".
---
More news, less ads: Our in-depth journalism is possible thanks to the support of our subscribers. For just $3.50 a week, you get unlimited, ad-lite access to The Vancouver Sun, The Province, National Post, and 13 other Canadian news sites. Support us by subscribing today: The Vancouver Sun | The province.