Two ancient Aboriginal petroglyphs are returning to northwestern Tasmania after a long campaign to return them to the rugged coastline from where they were stolen in the 1960s.
Most important points:
The native petroglyphs are estimated to be 14,000 years old

Five decades ago, they were brought to museums from the state's remote northwest

They are placed in their natural environment where they are likely covered in sand
After more than five decades, three institutional apologies and painstaking conservation work, the petroglyphs are loaded onto trucks that drive hundreds of miles to their home in a remote corner of the state.
It marks the end of a hard-fought battle to return the petroglyphs to preminghana* from the state's two oldest museums: the Tasmanian Museum and Art Gallery (TMAG) in Hobart and the Queen Victoria Museum and Art Gallery (QVMAG) in Launceston .
Today, the sacred 14,000-year-old petroglyphs begin the final leg of their journey with a smoking ceremony at each museum before heading to their final resting place for the next week.
Aboriginal Land Council of Tasmania manager Rebecca Digney said it was a "memorable" day that many First Nations Tasmanians had been waiting for more than 50 years.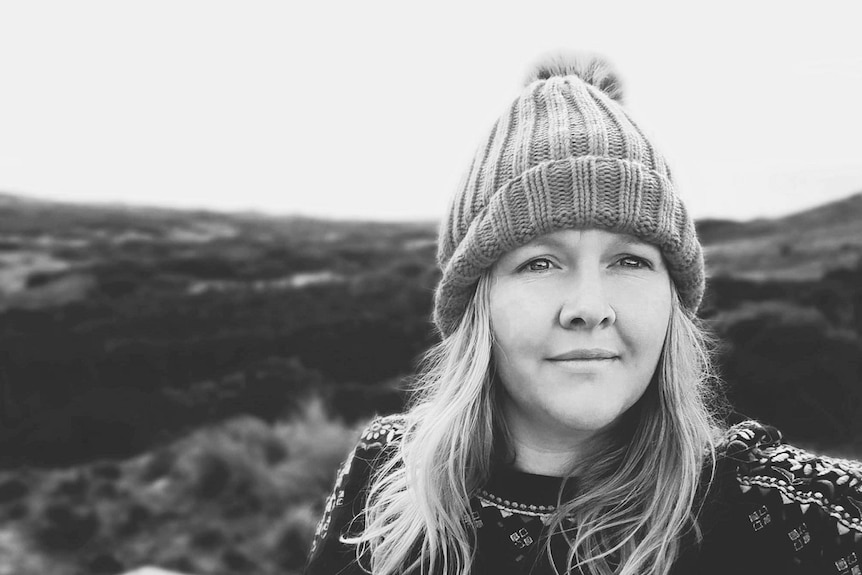 "These discussions about why these beautiful objects were kept in glass in a museum went on for decades around kitchen tables and in palawa people's lounges, and eventually they started to grow," she said.
"Now, in 2022, we now see those sacred objects have returned to their proper place on the land, so it's been a long time.
"It's all happening and there's a buzz in the air because everyone's so excited — this is reconciliation in action."
Andry Sculthorpe of the Tasmanian Aboriginal Center addressed the ceremony at TMAG's Rosny storage facility on Hobart's east coast.
He thanked members of the Aboriginal community for their tireless campaign to get the carvings back.
"Probably 20, 30 years I can remember people talking about this, so to see it happen now is amazing," he said.
Zoe Rimmer of the Tasmanian Aboriginal Heritage Council worked at TMAG when the carvings were still on display.
She said it was "great" to be there to say goodbye to the building.
"It was then part of my job to give tours of that gallery and awkwardly explain to visitors why that exhibit was so offensive to our community," she said.
"It's a huge milestone in the significant shift that has taken place at this institution over the past three decades."
Michael Mansell, chairman of the Aboriginal Land Council, told the crowd in Launceston that the artworks were like puzzle pieces; By themselves they make no sense, but when put back in place they tell a story.
"If you look at all the petroglyphs along Tasmania's west coast, our ancestors left us a record of Aboriginal life 15,000 years ago," he said.
"Of course you can't understand the message that's being left for us now because it's not part of the bigger picture, but you put it back and you see it all makes sense."
Logistic exercise of epic proportions
Ms Digney said there had been several political and legal hurdles to jump just to get the art back in principle, let alone physically move it from one end of the state to the other.
Both museums had to agree and go through the processes outlined in the Aboriginal Heritage Act. Then Roger Jaensch, Minister of Aboriginal Affairs, had to sign a final permit.
Since that permit was granted, Ms Digney said there had been "a coming together of minds" to tackle the unprecedented task of getting the rock art home, including enlisting the help of an expert stonemason and structural engineers.
The preminghana site can only be reached on foot or several hours' ride on four wheels—two unfeasible options for transporting massive but fragile ancient art.
"The bigger rock carving in Hobart had to have the concrete removed carefully, so now it weighs about a ton, and the smaller one weighs about 300 kilograms," she said.
"The community's initial preference was to bring in these huge sacred objects by helicopter, as the idea of ​​hauling heavy machinery across that landscape was just not acceptable, but we've had to change that.
"Everyone has worked so well with us, absorbing our cultural knowledge and our cultural will."
Cultural practitioners will be with the trucks every step of the way, Ms Digney said, so that the heritage of the landscape can be protected.
She said the petroglyphs would go back to where they came from, and while that meant they would soon be covered in sand, that's how it was in her opinion.
Northwestern local population claims not consulted
The celebrations are not universal in Tasmania's Aboriginal groups.
The Circular Head Aboriginal Corporation (CHAC), whose geographic area includes preminghana, is protesting at the site over what it says is a lack of consultation with it and the wider community in the area.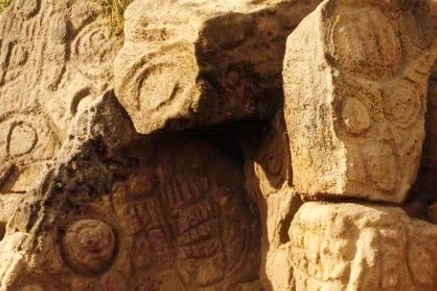 CHAC chairwoman Selina Maguire-Colgrave said both non-Indigenous and Aboriginal residents should have been involved in the repatriation process.
"This has been happening constantly for years," she said.
"Because we only have one land council and they are based in Hobart, they are supposed to speak for all of Aboriginal Tasmania, which they don't."