Montreal lost a 13-11 lead at halftime and were defeated 21-0 in the third quarter.
Article content
REGINA — The Alouettes continue to prove that they are not a second-half team.
Article content
Montreal lost a 13-11 lead at halftime and was beaten 21-0 in the third quarter, en route to a 41-20 loss to the Saskatchewan Roughriders Saturday night before 27,717 spectators at Mosaic Stadium.
The Als blew a 10-point lead at halftime over Calgary in their first game.
The Als defeated the Riders, June 37-13, at Molson Stadium, June 23 for their first win this season, but now have a 1-3 record. The Riders improved to 3-1.
The Als didn't produce an offensive touchdown until the fourth quarter, on Walter Fletcher's three-yard run. Chandler Worthy also returned an 84-yard kick-off for a touchdown, while David Côté added two field goals. Starting quarterback Trevor Harris was replaced late in the fourth quarter by Vernon Adams Jr.
Article content
Jamal Morrow scored a few touchdowns for the Riders, while quarterback Cody Fajardo added a third. Mitchell Picton caught an eight-yard touchdown, and Kian Schaffer-Baker scored on a 44-yard pass-and-run play. Nick Marshall also returned a 90-yard interception for a fourth quarter score, while Brett Lauther kicked a 57-yard field goal.
The Als did well offensively in their opening possession, thanks to passes from 27 yards to Hergy Mayala and a 17 yarder to Jake Wieneke, who returned to the active roster after missing last week's game with a hamstring injury.
Montreal eventually drove to the Riders' three-yard line before quarterback Trevor Harris was fired by Anthony Lanier, meaning the visitors had to settle for Côté's 18-yard field goal at 9:29. The Als have had major problems completing rides this season.
Article content
The Riders then immediately developed an eight-play, 70-yard drive – thanks to a 40-yard pass to Tevin Jones. The series culminated in Fajardo's eight-yard touchdown pass to Picton at 13:35.
But Worthy restored the Als' lead with his exciting kick-off return to the end zone. Worthy, signed by Montreal after his release from Toronto late in training camp, became the first player in the team's history to kick off for touchdowns in consecutive games. He returned the opening kick last week for a score.
Harris fumbled early in the second quarter after being hit by Lanier; the ball was recovered by Pete Robertson on the Montreal 40. But the Als were lucky enough to limit the damage when Lauther's 48-yard field goal shot was left wide for a single.
Article content
A 32-yard punt return by Worthy put the Als in scoring position at the Saskatchewan 39. But Montreal again had to settle for another Côté field goal, this from 38 yards, at 10:21, making the visitors 13-8. lead.
Lauther cut into that margin with his long field goal at 13:50.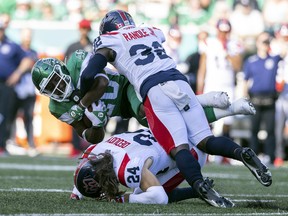 After the kick-off in the second half, things quickly began to unravel for the Als. An unnecessary roughness penalty against Darius Williams put the ball in Montreal territory. A pair of passes to Schaffer-Baker brought down Morrow's 12-yard off-tackle run for a touchdown at 1:40. A two-point conversion attempt was unsuccessful, giving the Riders a 17-13 lead.
An 11-play, 69-yard drive by Saskatchewan was capped by Fajardo's one-yard run at 7:26. This time, the two-point conversion was successful, giving the Riders a 25-13 lead. It was in the series that defensive tackle Michael Wakefield received his second penalty for misconduct, which resulted in an automatic goalkeeper throw.
Article content
Wakefield became the second Montreal player to be evicted this season, after center linebacker Tre Watson in Toronto last month.
After tailback Jeshrun Antwi fiddled with the Als's next possession, Schaffer-Baker scored on his long pass-and-run play down the right sideline at 9.42am.
The Als were limited to six offensive plays in the quarter.
Fletcher's three-meter score at 5:28 of the final period brought the Als closer, but the margin was still too difficult to overcome, especially on the road.
Montreal has a retirement in the schedule next week before hosting Edmonton on July 14.
Alouettes compete to take down Roughriders for the second week in a row

In the CFL: Undersized DB Najee Murray plays big in Alouettes secondary

Alouette's go-to recipient Eugene Lewis has his sights set on CFL's top prize
twitter.com/HerbZurkowsky1