'Increase in all-cause deaths was proportionally higher, and in significantly greater numbers, in the younger age groups'
Article content
Alberta recorded a "massive increase" in deaths from causes other than COVID-19 among young people during the pandemic, a recent study found.
Article content
The conference summary found an excess mortality rate in Alberta from January 2020 to May 2021, meaning the number of deaths in the province during that time was higher than would be expected compared to the death rates from 2015 to 2019.
During that period, there were an average of 248 additional deaths per month in Alberta. That ranged from just 49 additional deaths in January 2020, before the COVID-19 pandemic hit Alberta, to a whopping 781 additional deaths in December 2020.
In those 17 months, 2,226 Albertans died from COVID-19, representing about 54 percent of the province's 4,214 additional deaths over that period. And younger Albertans made up a large proportion of those deaths.
"Increases in all-cause deaths were proportionally higher, and in significantly greater numbers, in the younger age groups," the study said.
Article content
"While older adults are more likely to die from COVID-19, there has been a massive increase in non-COVID-19-related deaths among young people. This should be taken into account in public policy decisions on epidemic/pandemic control."
The abstract was published in the International Journal of Infectious Diseases and authored by five Alberta Health Services officials.
In response to a request from Postmedia, AHS did not interview an officer involved in the investigation.
In addition to the additional deaths related to COVID-19, the study found that there were 731 additional deaths from drug poisoning during the period, representing about 18 percent of the additional deaths.
That leaves 28 percent of the additional deaths, which the study suggested are likely due to "other factors such as limited access to emergency medical care."
Article content
dr. Gabriel Fabreau, an assistant professor of general internal medicine at the University of Calgary, reviewed the study. He said he believes the magnitude of the excess deaths is a product of Alberta's pandemic approach.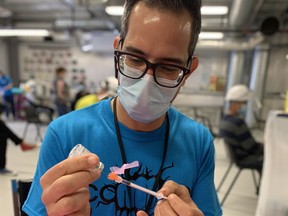 "It's a cumulative number that represents a lot of public health decisions," Fabreau said, adding that the finding around excess mortality among younger Albertans was striking.
"Young people are not supposed to die. I don't think you need to be a scientist to know that. So when you see a very large proportion of excess deaths, an increase in deaths that are much higher in younger populations than in the elderly, this speaks of how deadly COVID was, but also of the opioid epidemic and ultimately what what happens to our health-care system."
Article content
Fabreau, also a general internist at the Peter Lougheed Centre, said hospitals are still under great pressure, both from an increase in the number of patients and a shortage of health workers.
The doctor said this latest study of excess mortality is consistent with previous research, including Dr. Tara Moriarty of the University of Toronto.
He added that the problem is not unique to Alberta, with excess mortality being documented across Canada during the pandemic.
According to Statistics Canada, excessive death rates can be used as a way to measure the direct and indirect toll of the COVID-19 pandemic.
The most recent data from that agency showed that there were 6,532 additional deaths in Alberta between January 2020 and the first week of February 2022. To date, 4,321 Albertans have died from COVID-19.
Twitter: @jasonfherring