Article content
If Toronto Fire Chief Matthew Pegg had his way, no new names would be added to the Toronto Fallen Firefighter Memorial.
Article content
Pegg, along with firefighters and their families, took part in honoring 21 firefighters on Sunday morning at the first such memorial service since COVID struck more than two years ago.
"Our collective dream would be to come here to honor and pay respect and not have to add any names," said Pegg, adding that occupational cancer is a "big problem for this service," along with the challenges of " psychological injuries and accidents at work."
Pegg was grateful to everyone who came to the memorial to pay their respects.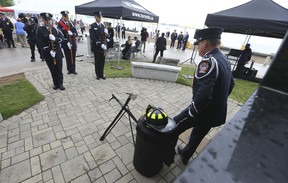 Joanne Skene attended Sunday with her mother, Joan Chalmers and other family members. They looked over the polished granite to find "Daddy," who served from 1962 to 1989 before retiring.
Article content
"We're here because we couldn't hold his funeral in 2020 because of COVID," Skene said. "So this really means a lot to us."
"His last years were very difficult for him because of the cancer."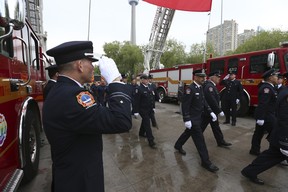 "And they won't be forgotten now."
Joan Chalmers held a hard leather fireman's helmet – over 60 years old – to her heart and chest. She said it belonged to her husband and called it a "treasure".
Robert Chalmers died on November 4, 2020, nine days after his 87th birthday, from cancer.
Relatives talked about Robert and how his firefighter family would carpool to Claremont St. station east of Trinity Bellwoods Park. He also spent time at Keele, Runnymede and Exhibition stations.
Article content
"I knew them all and they were like a family," Chalmers said. "I made meals and sent it (with them) to the fire hall."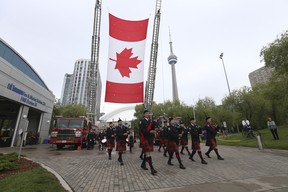 Skene spoke about the "difficulty" of the job and how firefighters were "brave".
"And they were very proud of it (the job) and so were their families," said Skene. "And it's nice that they are remembered."
Mother and daughter laid their red roses – like all 21 families – at the "Last Alarm" monument. The laying of the roses is a gesture similar to the laying of poppies on the Tomb of the Unknown Soldier at the National War Memorial in Ottawa.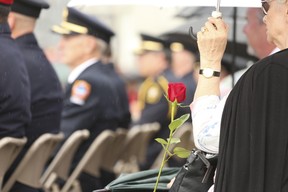 The memorial now bears the names of 319 firefighters, dating the first line of their deaths in 1848. The names and their stories are remembered by their families and those with whom they worked throughout their careers. jobs for those who live in Toronto†